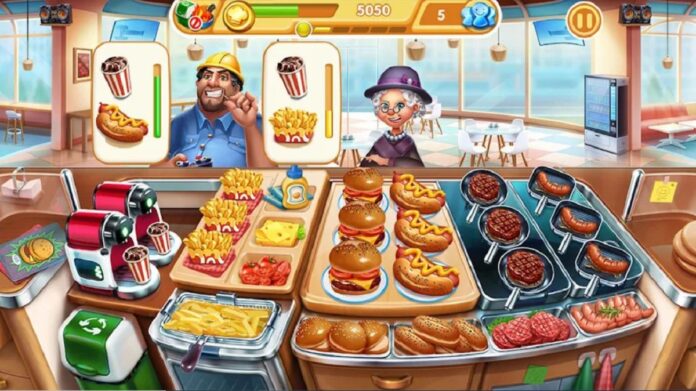 Perhaps you might have already experienced that cooking, rather slicing or dicing ingredients gives a high level of relaxation and satisfaction. That's why nowadays people are more interested to play food serving games. Cooking games or restaurant management games have become an immensely popular and trending genre of mobile games for all age groups.
However, choosing the top games under this category can be quite difficult as the market is overloaded with cooking games. To help you avoid scrolling the Google Play Store or Apple App Store, here's a list of the most enjoyable restaurant management games in this guide that you can play on your Android or iOS smartphones. 
But before jumping into the list, let's find out quickly what cooking games or restaurant management games are. These games are a gateway to learn cooking skills, increase knowledge on different cuisines and ingredients, build problem-solving skills, and provide immense entertainment. 
These games will give a real-life experience by taking you into an imaginary world, making you cook recipes, and serving them to customers.  It provides a completely different feeling, especially for those, interested in cooking. These are the best casual games to be played on your mobile.
Top Restaurant Games that You Should Play
Star Chef 2 is a unique and most loved restaurant management game played by millions of users. It comes with elegant visuals, mini-game challenges, and crafting mechanisms to keep the users engaged and entertained throughout the play session. 
It is a game fuelled with life that offers numerous food combinations, customized options, personality, and community play. It is a perfect blend of creativity and practicality that teaches time management, kitchen skills, cooking skills, and competitiveness. 
The cheerful characters, chef masters, and food tournaments not only provide entertainment to the players but also allow them to explore several kitchen hacks.
Cafeteria Nipponica is a fun cooking game that not only teaches cooking skills to its users but also allows them to experience everything involved with running a restaurant. The game offers a platform to know about top-notch ingredients, look for delicious recipes, and cook the best-tasting dishes. 
It also allows the users to play as restaurant managers. This includes features such as restaurant decoration, shopping furniture, flooring, and fixtures for the restaurant, hosting entertaining events, organizing cooking shows, and eating contests. 
The game provides options for the players to select the best cooks and staff for their restaurant, thus giving them a thrilling and real-life experience.
Cooking Craze: Restaurant Game
With the simple cooking mechanics and colorful art style, Cooking Craze has gained popularity in the cooking video games genre. This game allows its users to prepare different cuisines, bake pastries, learn unique recipes, and expand the restaurant business.
It features kitchen tournaments, level advancements, and quests to keep its players engaged and motivated. However, the game might not be easy to play for everyone. With progress at every level, the game becomes more challenging and difficult.
Cooking City is one of the best mobile games that solely focuses on the cooking aspect. This game mainly features a platform to cook food combos within perfect timing. In simple terms, it is a multitasking game that helps its users to learn time management skills. 
In comparison to other cooking games, this game is quite simpler and easy to play as it does not include the restaurant aspect. It is a bright and colorful game that can build cravings for the food it showcases.
If you want to play a food serving game that equally focuses on restaurant management then Cooking Fever can be a perfect choice. In this game, the players get a chance to choose restaurant decorations and kitchen appliances as per their desires.
Apart from this, the users are also allowed to prepare freebies such as cupcakes or cookies to increase the popularity of their food business. But despite being an extremely fun game, Cooking Fever is complicated to play. If you are a pro player who can complete more than 1,000 levels in a culinary game, then this is absolutely apt for you to play.
Culinary games come with diverse nature. While some are simple and easy to play that help in reducing the day's stresses, others are complicated and stressful, spiking the stress hormone more than ever. Well, Cooking Madness falls under the latter type of cooking games.
As the name suggests, this game is packed with extreme madness that keeps its players engaged throughout the gameplay session. The game features a wide variety of cuisines to cook, keep a track of all the orders, food, and appliances. 
Final Note
The best restaurant games can be really fun as well as addictive if or not you are an aspiring restauranteur or culinary chef. It's no surprise that you'll find various games in this genre that suit both immediate level and advanced level players.
These games are perfect for killing waiting hours in the airport, doctor's clinic, railway stations, or even bus stops while you are waiting for the bus. So, if you are looking for entertaining chef games, then wait no longer! Download the best games on your smartphone and get started.