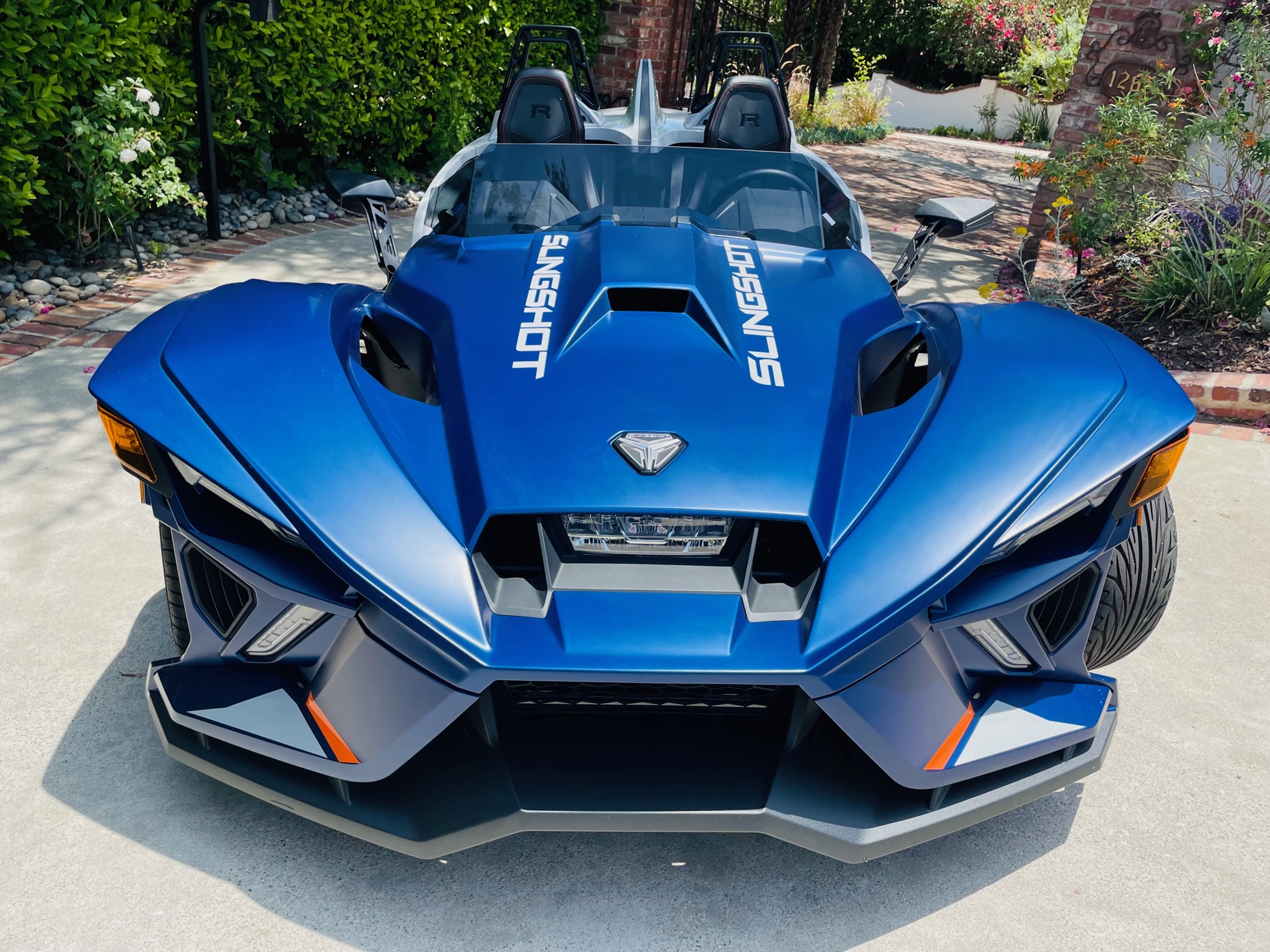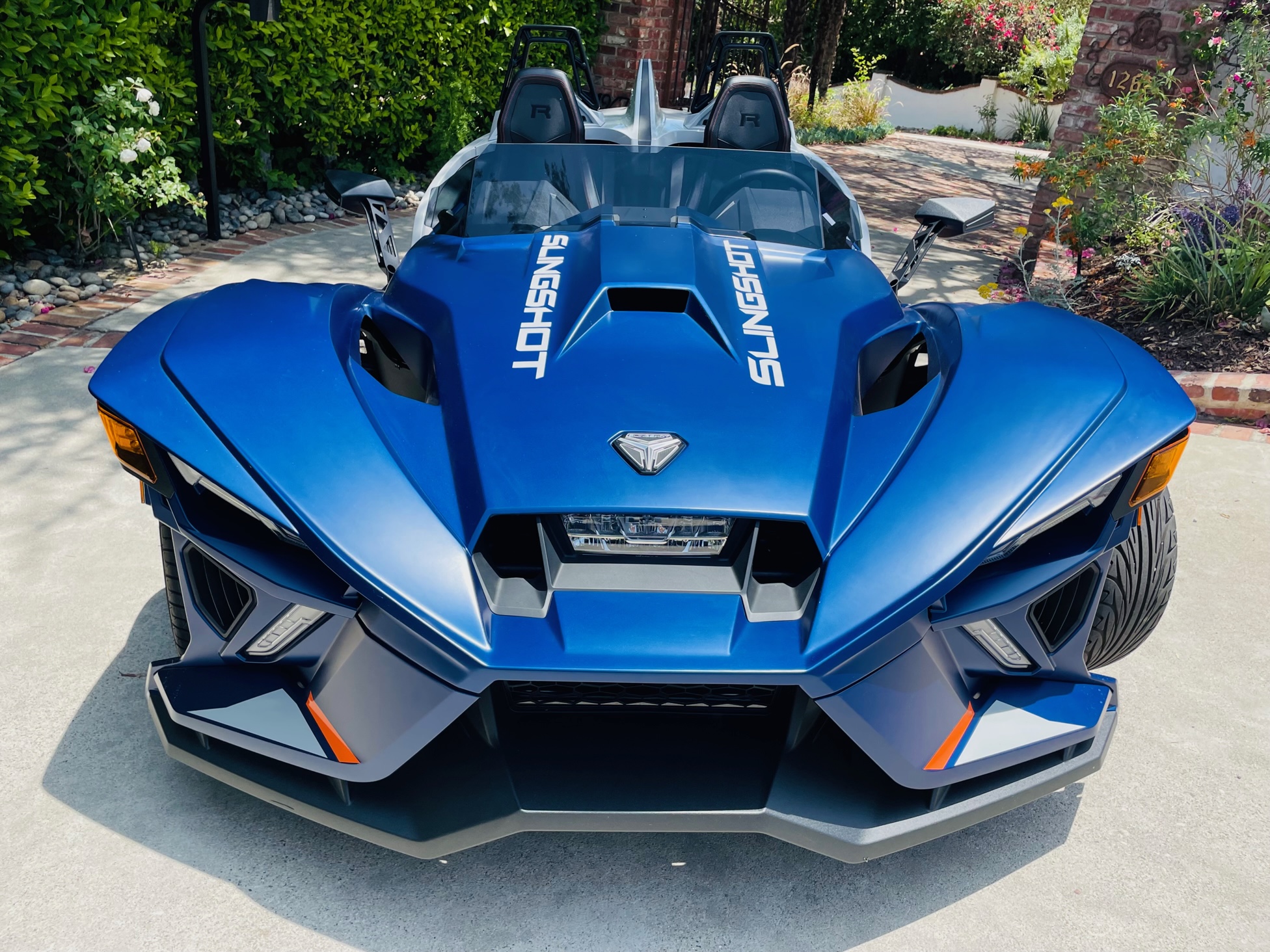 Jill Weinlein
The Polaris Slingshot is an eye-catching three-wheel vehicle with its two-tone paint scheme and unique vented sport hood design. When I had a Slingshot R delivered to my house for a week, I enthusiastically jumped into the 2022 Midnight Storm Fade and started the ProStar four-cylinder 203 horsepower engine. One can't help but say 'Wow!' when buckled into the driver's comfortable seat.
Heads turn, people wave and give thumbs up when they see a Slingshot driving down the street.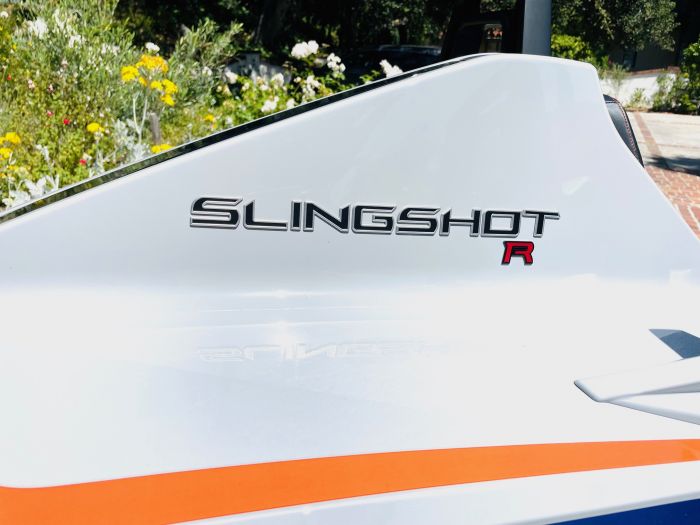 Jill Weinlein
The back of the Slingshot has a distinctive shark fin design and the front has an enhanced vented sport hood that is fierce looking. Since it's low to the ground and there are no windows or doors, it's easy to hop in and out.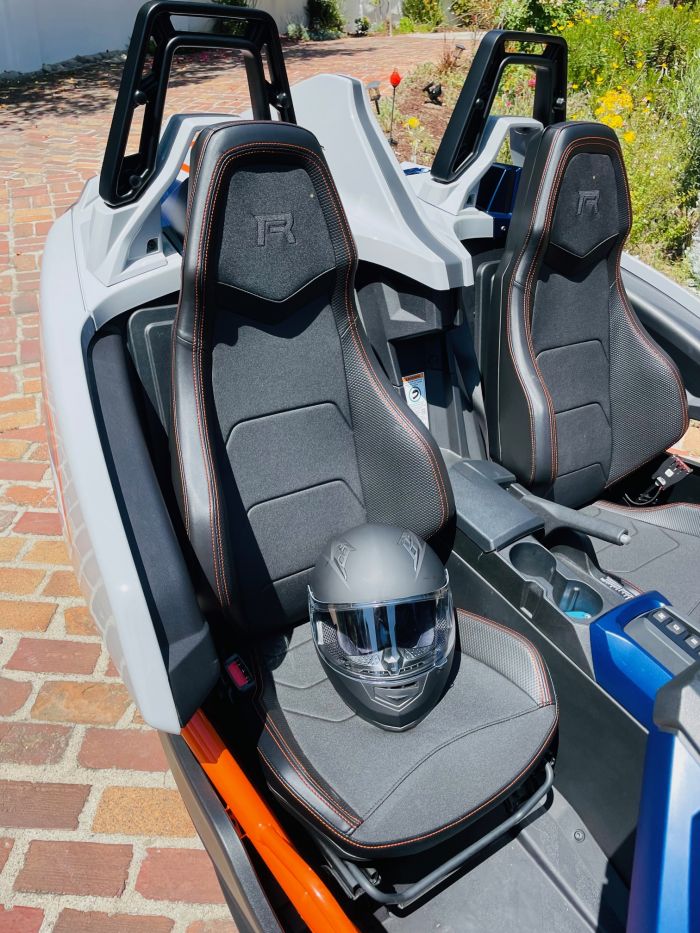 Jill Weinlein
Until 2020, the Slingshot was considered a motorcycle, and drivers needed a motorcycle license and helmet to take it for a spin. Now 48 states so not require a motorcycle license, just a standard driver's license. Massachusetts does still require drivers to have a motorcycle license when driving a Slingshot.
A DOT certified full-face helmet is required for the driver and passenger to wear, because there are no airbags. There are seat belts and a roll bar hoop on both sides of the car. Since the windshield is low, I was glad to wear a helmet to protect my head and face from bugs, plus it also dampens the engine sound.
There are two different ride modes to experience when driving the Slingshot. For a spirited, more sporty ride the Sports mode quickens the throttle response and tightens steering to deliver a more 'wow' feel. When equipped with AutoDrive, the shifting performs quicker and the gears hold longer.
The Comfort mode is for a more casual ride with a smooth throttle and shift response and balanced steering. This mode provides optimized driving efficiency.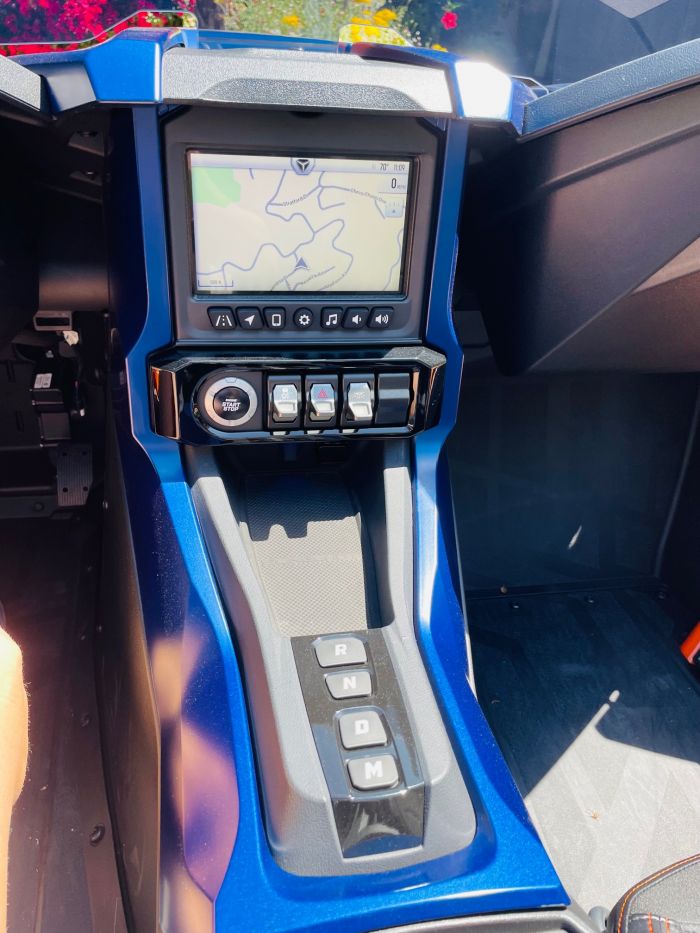 Jill Weinlein
Amenities in Slingshot's sport interior package include a seven-inch display powered by RIDE COMMAND. This integrated in-vehicle communication system allows the driver to easily hold a conversation with the passenger without shouting over the engine. The driver can also connect by linking a smartphone via Bluetooth to receive and display texts and calls from friends and family.
The center console has switches that include Hazard Emergency Flashers, and a Master Lighting Switch for high beam headlights. The Electronic Stability Control (ESP) system helps reduce the risk of an accident by providing traction and stability control. If the vehicle senses a loss of stability due to a loss of traction in water or gravel and starts to skid, the ESP intervenes by automatically applying brakes to one or more wheels and reduces power to the rear wheel.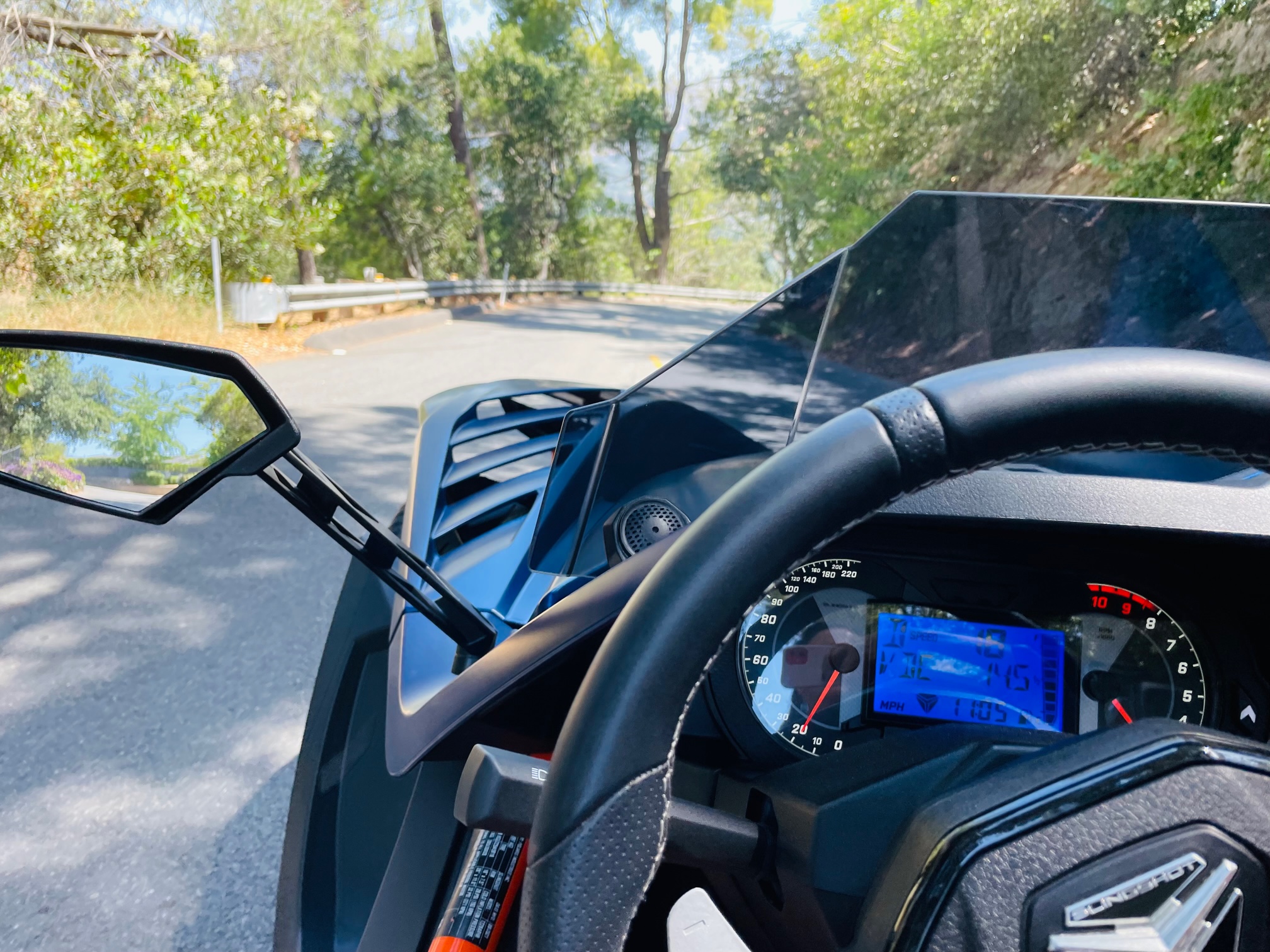 Jill Weinlein
The steering wheel will conquer every twist and turn and has a horn and paddle shifters to change gears. There are audio control buttons to adjust the music volume, and to pause, play, and advance or go back to the previous track. The Cruise Control has three buttons to enable, set, reduce or increase speed and resume.
Beyond the steering wheel is the Instrument Cluster displaying your speed and a tachometer. The Indicator Lamps show if Cruise Control is engaged or enabled. The ABS Anti-lock Brake System is illuminated when activated, as is the high beam lamp. There is also a Low Fuel lamp that illuminates when approximately one gallon (3.8 liters) of fuel remains in the tank
Other icons that illuminate include the Engine Overheat, Check Engine, Low Battery Voltage and Traction Control.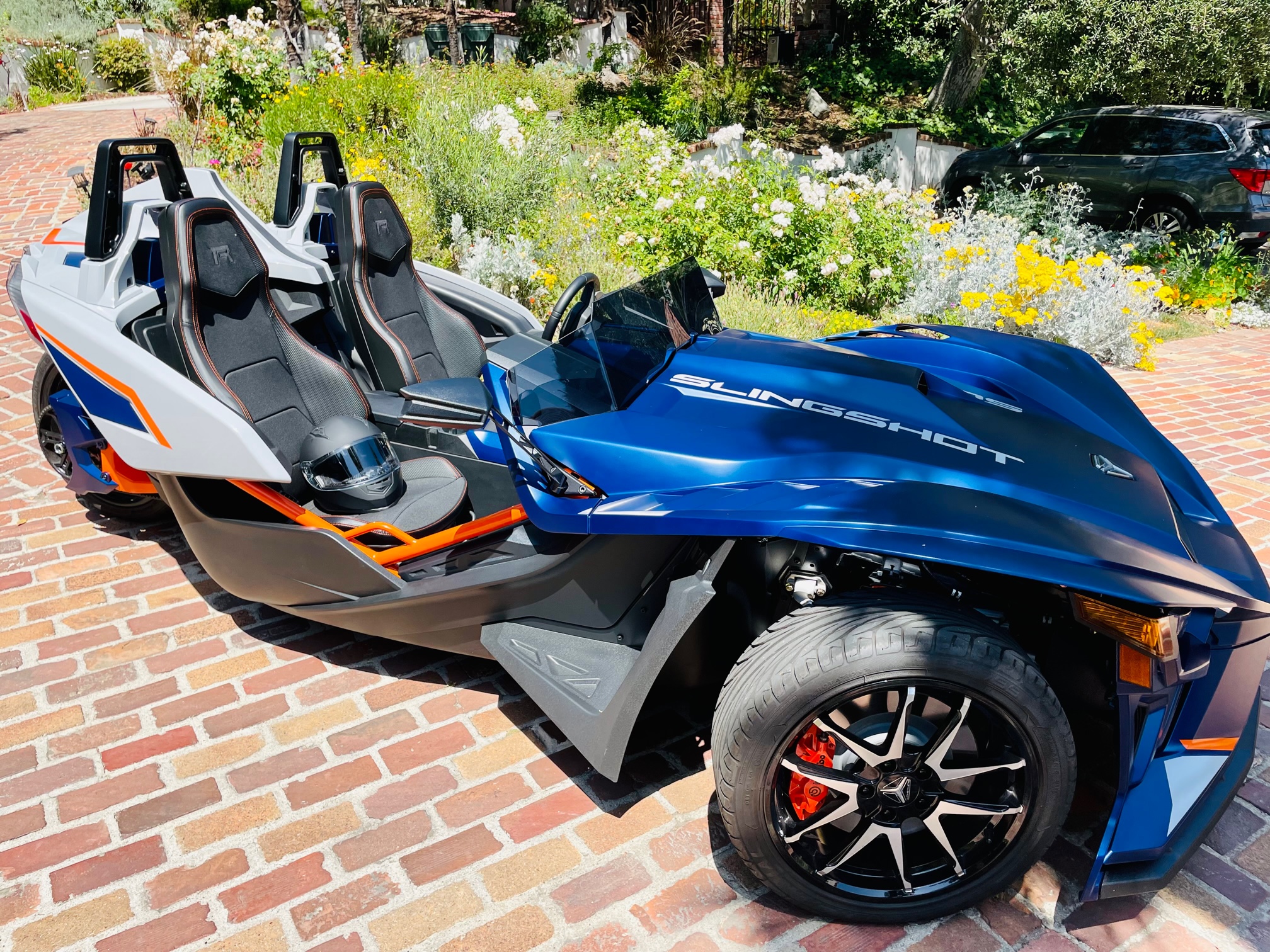 Jill Weinlein
Standard on all 2022 R models is the four-piston Brembo brakes, known as one of the global leaders in braking technology for high performance cars and motorcycles. The Brembo front brake rotors are 14% larger than the standard front brake rotors and feature fixed calipers where the brake pads and pistons are located.
Car and motorcycle hobbyists purchase a Slingshot for an exhilarating open-air ride. There is nothing quite like sitting low to the road taking twists and turns with the sun and wind on you. For many, this hobby accelerates into a lifestyle of meeting other Slingshot fans at car rallies and car clubs.
Polaris Slingshot S starts at $20,799, the SL starts at $26,799 and the Slingshot R base is $33,299.