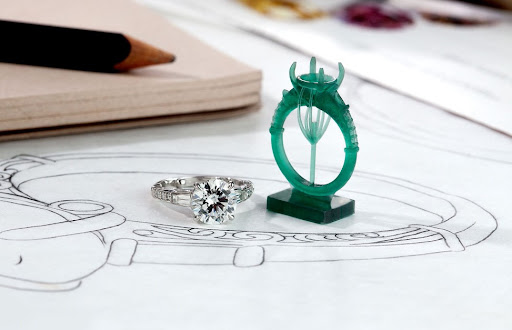 The number of alternatives available is mind-boggling. When it comes to purchasing jewelry, today's customers are fortunate to have many options. Choosing the ideal jewelry designer, on the other hand, might be a difficult task. Research New York jewelry designers, check their credentials, evaluate their long-term services like 3D jewelry modeling and jewelry animation, and pick out your new jewelry in person to ensure you obtain the right piece.
You want a designer who reflects your taste, employs the quality and style of diamonds or other precious stones that you want, and you don't want to make any compromises. Furthermore, having personalized jewelry manufactured allows you to determine your budget. To choose the appropriate jewelry designer for you, follow this guideline.
Look into the designers who have piqued your interest.
You should do your search, just as you would with any major purchase. Look deeper into any jewelry designer you're thinking about. If reviews are available on the internet, you should read them to understand their online reputation and level of service. Find out how long the firm has been in operation and whether or not residents in the area would suggest it.
Investigate designers to learn more about their areas of expertise. Not all retailers that sell a large range of excellent designer jewelry, for example, are also skilled at designing custom items. Some New York jewelry designers specialize in diamond rings and bridal jewelry, while others work exclusively in gold or specialize in vintage pieces. You'll want to make sure that the designer's skills match the styles and techniques you're interested in.
Check the Designer's Credentials
One resource you may utilize is Jewelers of America's free database of qualified, knowledgeable fine jewelers, which is one of the country's oldest organizations. You may seek out designers by name or search for them. Companies that are members of JA attend frequent continuing education courses and adhere to a strong professional code of conduct.
Consider It a Long-Term Relationship
You should find a designer that offers a comprehensive guarantee on precious stones and workmanship. All expensive items should be properly cared for throughout time. Furthermore, if custom-made jewelry is broken, it will require bespoke repairs. As a result, you'll want to choose a designer who will last a long time and can assist you with cleaning, maintenance, repairs, and future purchases.
Visit a designer in person to make your selection.
This isn't a decision you want to make over the internet. Anyone can create a visually appealing website, but not everyone can create a timeless piece of jewelry. From a photograph on the internet, it's impossible to judge the quality of the artistry and materials utilized. Likewise, you won't look for inclusions or imperfections in a diamond. Also, ensue the jewelry design studio has advanced services like jewelry sketch design. 
Conclusion
The choice of a jewelry designer is a personal one. You'll want to be able to talk about your preferences and vision with someone in person. You can learn about the designer's values, style, and work process by meeting them. After that, you may seal the sale with a handshake and a smile.
When you trust a licensed dealer or designer, you can shop in person and analyze the jewelry's quality more properly. This is also a good time to get expert advice and direction on your purchase. Because client happiness is so important to them, they go out of their way to make sure their customers are delighted with their purchases. Answering queries, staying within your budget, and delivering dependable service should be routine operating procedures.