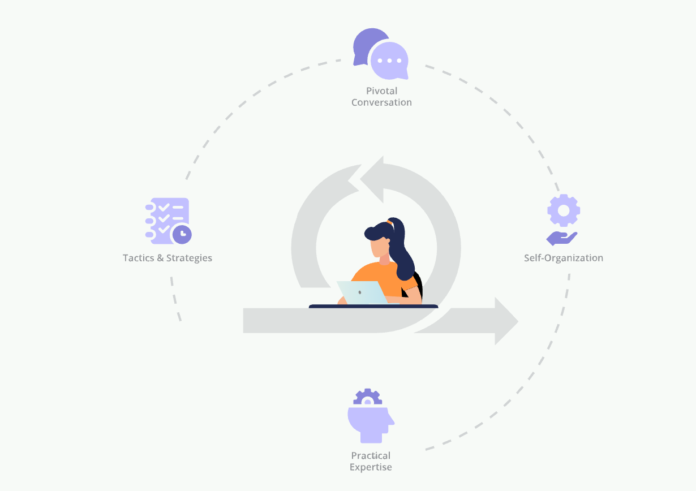 Scrum has established a reputation as a methodology that can solve complex challenges while delivering innovative products and services on time and on a budget since its inception. This strong framework has been embraced by major global digital firms such as Walt Disney, Google, LinkedIn, Roche, BBC, Tesla and many major concerns. Scrum Alliance® offers the Advanced Certified Scrum Master or CSM® certification to practitioners who complete the Advanced Certified Scrum Master course and have at least a year of experience as a Scrum Master. 
Why Go For a Scrum Master Training Course?
Scrum continues to be popular for its potential to cut time-to-market, improve product/process quality, promote employee morale, and develop truly future-ready businesses, with a 58 per cent implementation rate across organizations globally (the 14th State of Agile, 2020, Digital.ai).

 Telecommunications, education, media & entertainment, retail, oil, gas & energy, finance & banking, manufacturing, insurance, healthcare, government, and consultancy are all seeing an increase in demand for trained and qualified Scrum Masters.

According to the World Economic Forum, the Scrum Master is one of the top three rising employment roles in the IT sector.
Objectives Of Scrum Master Training Course:-
Improve your Scrum implementation abilities so that stakeholders can communicate more effectively.
Develop your ability to scale Scrum and Agile, as well as your coaching skills.
Scale Scrum and Agile beyond a single team, and use your experience as an Agile specialist to help others.
How To Become A-CSM® Certified?
With the A-CSM® certification, you can prove your skill as a Scrum professional while also networking with the finest in the field. Are you unsure where to begin your A-CSM® certification? Simply take these easy steps.
Accreditation from a Scrum Alliance Global Registered Education Provider is required (REP). Enroll in an Advanced Certified Scrum Masters® course and attend the two-day workshop.
Validate your own experience.
Sign in to Scrum Alliance, fill out your profile, select "yes" or "no" for the Marketing Opt-in question, and agree to the License Agreement. At least 12 months of Scrum Master experience is required (within the past five years).
Become a Scrum Master who is Advanced-Certified.
The A-CSM® certificate is available for download. You've earned the title of Advanced Certified Scrum Master!
The A-CSM® training programme has some prerequisites.
The course does not have any requirements. An active CSM® certification is required, as well as 12 months of Scrum Master work experience in the previous five years, to be eligible for the A-CSM® certificate.
This CSM® certification programme provides you with a thorough understanding of the concepts, procedures, and events that must be understood to keep the Scrum framework together safely. The training teaches professionals how to get Scrum teams to work at peak efficiency and how to collaborate with other scrum practitioners to ensure continual improvement. Scrum team members, Scrum team managers, Scrum teams transitioning to Scrum, and individuals interested in pursuing a career as a professional Certified Scrum Master can all benefit from the CSM® Certification. So why wait any longer? Scrum is a great way to start your career.