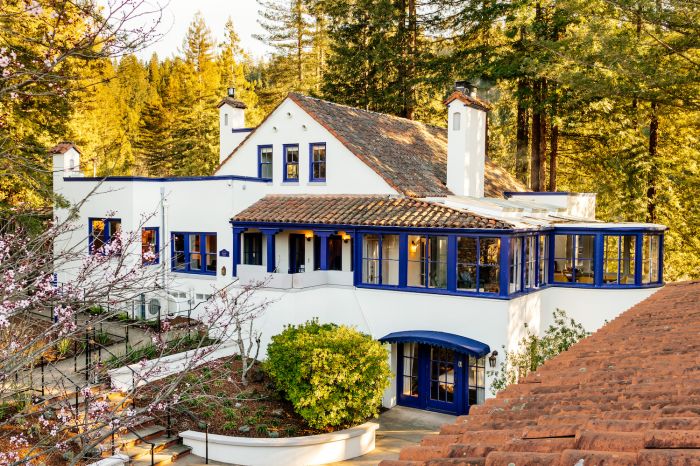 The Stavrand Belden House. Photo by Emma K. Morris
Quaint in its throwback appeal, Guerneville hasn't registered as much more than a semi-funky thoroughfare that connects wine country and the coast. Set along the Russian River, the region is a popular spot for campers and those seeking modest accommodations that afford easy access to the recreational opportunities that abound. But a new hospitality option provides reason to place Guerneville at the top of any getaway wish list. The casually elegant Stavrand takes the best of its region's bucolic bounty and fashions those riches into a gracious 21 room boutique inn that is as destination-worthy as some of its higher profile wine country hotel brethren.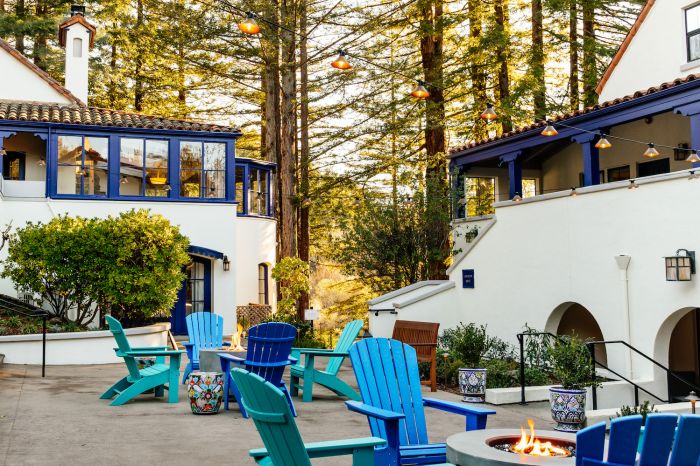 The Stavrand Courtyard. Photo by Emma K. Morris
On the site of the former Applewood Inn, The Stavrand utilizes to the fullest its verdant six acres. Guests are invited to hike a hillside that affords commanding views of the forested backdrop. A fruit orchard-surrounded chef's garden welcomes wanderers with a well-marked, wood chip-lined pathway. A sun-speckled swimming pool and hot tub are encircled with chaise lounges. A swinging hammock, set underneath a canopy of trees, beckons the weary, and a fleet of complimentary bicycles allow for further exploration of the area.  
The inn's four historic buildings surround a twinkle-lit courtyard that is more than conducive to guest camaraderie. Here, Adirondack chairs in varied hues of bright blue are stationed around two firepits that provide welcome warmth when the ocean fog inevitably rolls in. Guests are invited to put these firepits to even better use with the gratis S'mores packets found at-the-ready each evening in the Belden House, the inn's cozy lobby building, the centerpiece of which is a massive stone fireplace, original to the 1922 construction and carefully restored to reflect the property's Mediterranean Revival architecture. It is here in Belden House where you'll find board games, a lending library, and complimentary evening aperitif. Guests are encouraged to gather at 5pm for a selection of local Sonoma County wines and the occasional crafted cocktail.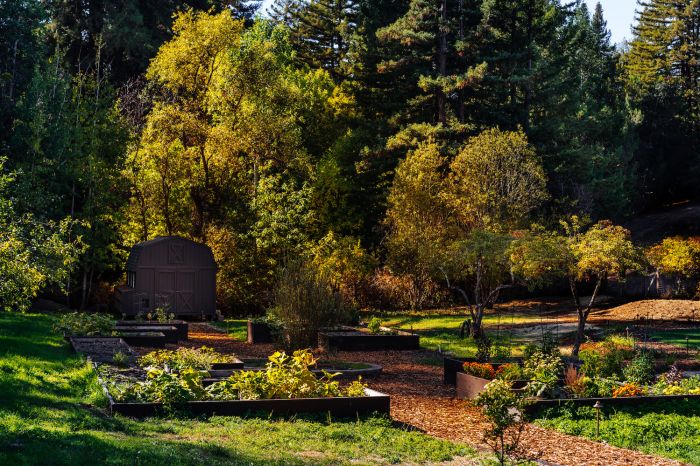 The Stavrand Garden & Orchard. Photo by Emma K. Morris
The Stavrand's Belden House Sunroom
And though it might be the numerous amenities and the beautifully-appointed guest rooms (some with private hot tubs, others with large jetted baths, gas fireplaces, and several with balconies or patios) that provide incentive to visit, those in the know will site the culinary offerings as a major draw. Currently open only to hotel guests, The Stavrand restaurant is a revelation. Breakfast (with a choice of three creative and delectable options, coffee, and fresh juices) is included. But don't miss the dinner option at $125 per person, which includes ample wine pairings of both well-known and under-the-radar Sonoma County labels. Overseen by Executive Chef Jeremy Clemens, the kitchen offers an ever-changing, seasonal, three course menu that alone is worthy of a Stavrand stay. Enjoy one dinner, and you're likely to book additional nights in order to sample the whole of the talented Clemen's vast repertoire. Think Charred Summer Squash with radicchio, Parmigiano Reggiano, balsamic and pine nuts, Eggplant with pesto polenta, Monterey King Salmon with tzatziki and blistered cherry tomatoes, all followed by a S'mores Cake made with TCHO chocolate, graham crackers and toasted marshmallow.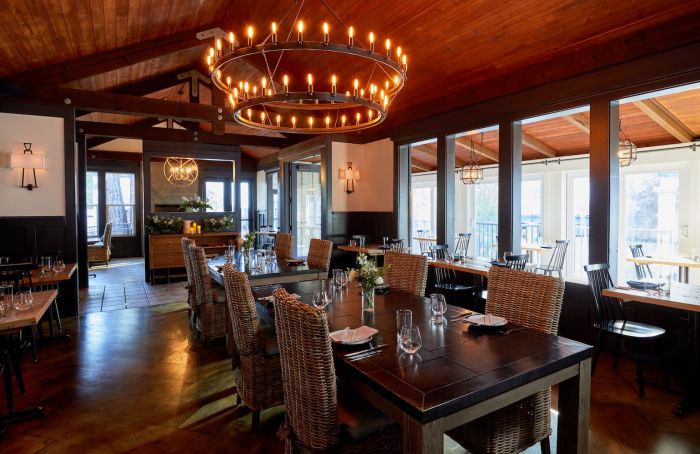 The Stavrand Dining Room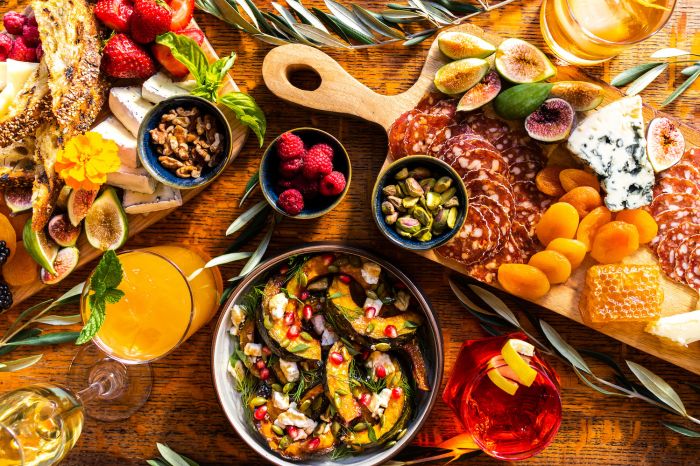 The Stavrand Dining Room Medley. Photo by Emma K. Morris
The art of hospitality is part of proprietor Emily Glick's heritage. Her grandparents Grace and Erik Stavrand (for whom she named the hotel) operated the Black Bear Lodge in Bolton Valley, Vermont. The Stavrand is Glick's labor of love; she shares proprietorship with a small group, each of whom is committed to providing guests with a unique and indulgent Sonoma County stay. Their mission is more than accomplished.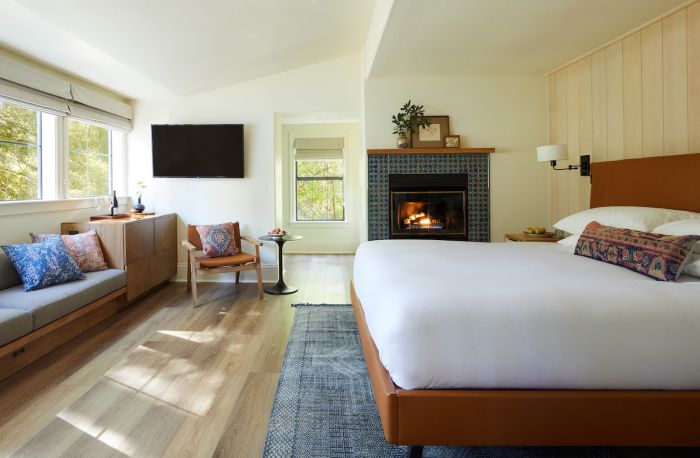 Guest Room at The Stavrand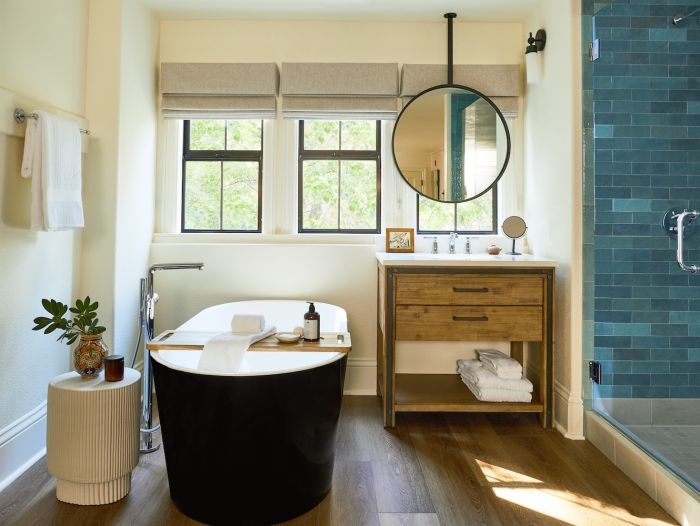 Guest Bath at The Stavrand
All photos courtesy of The Stavrand