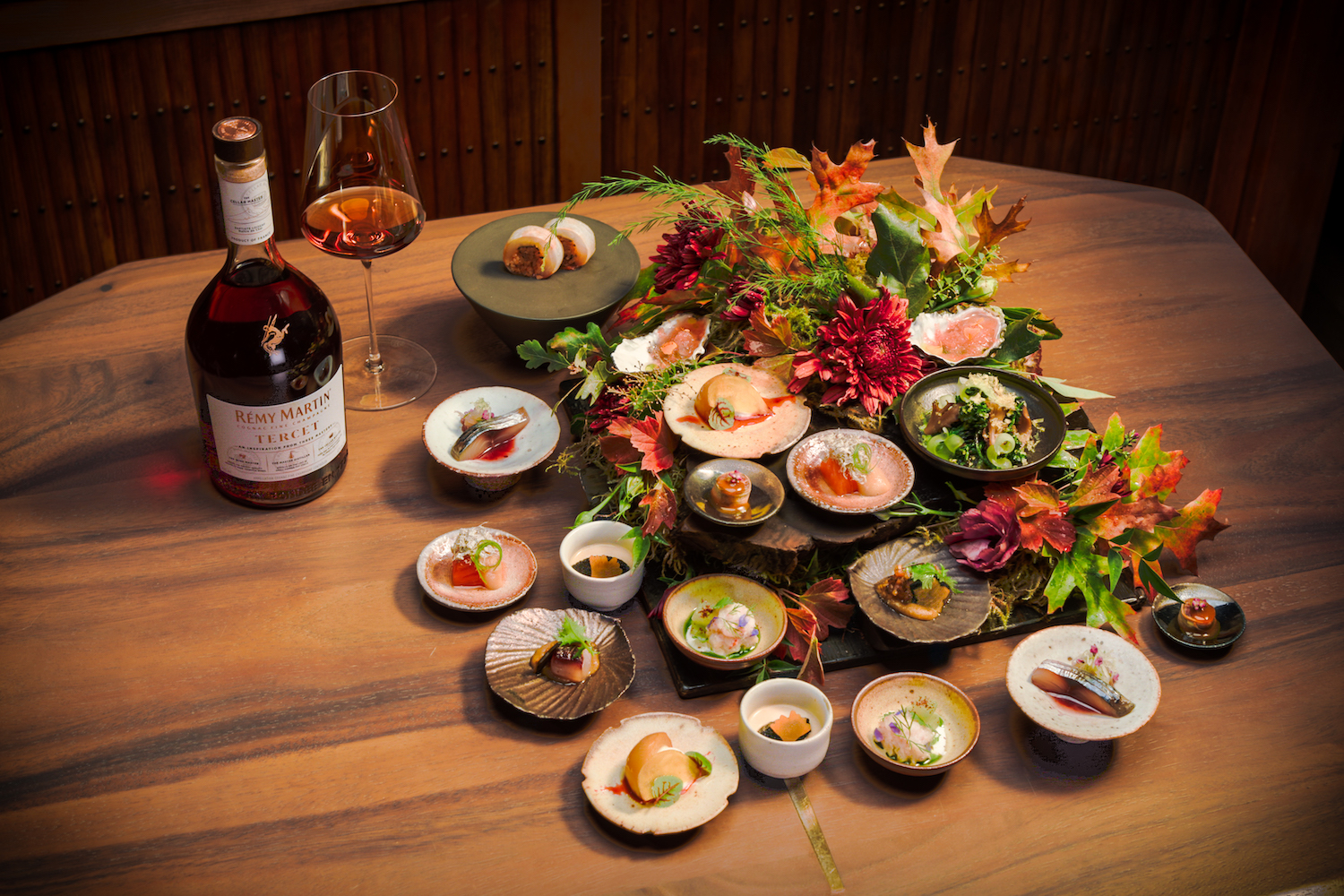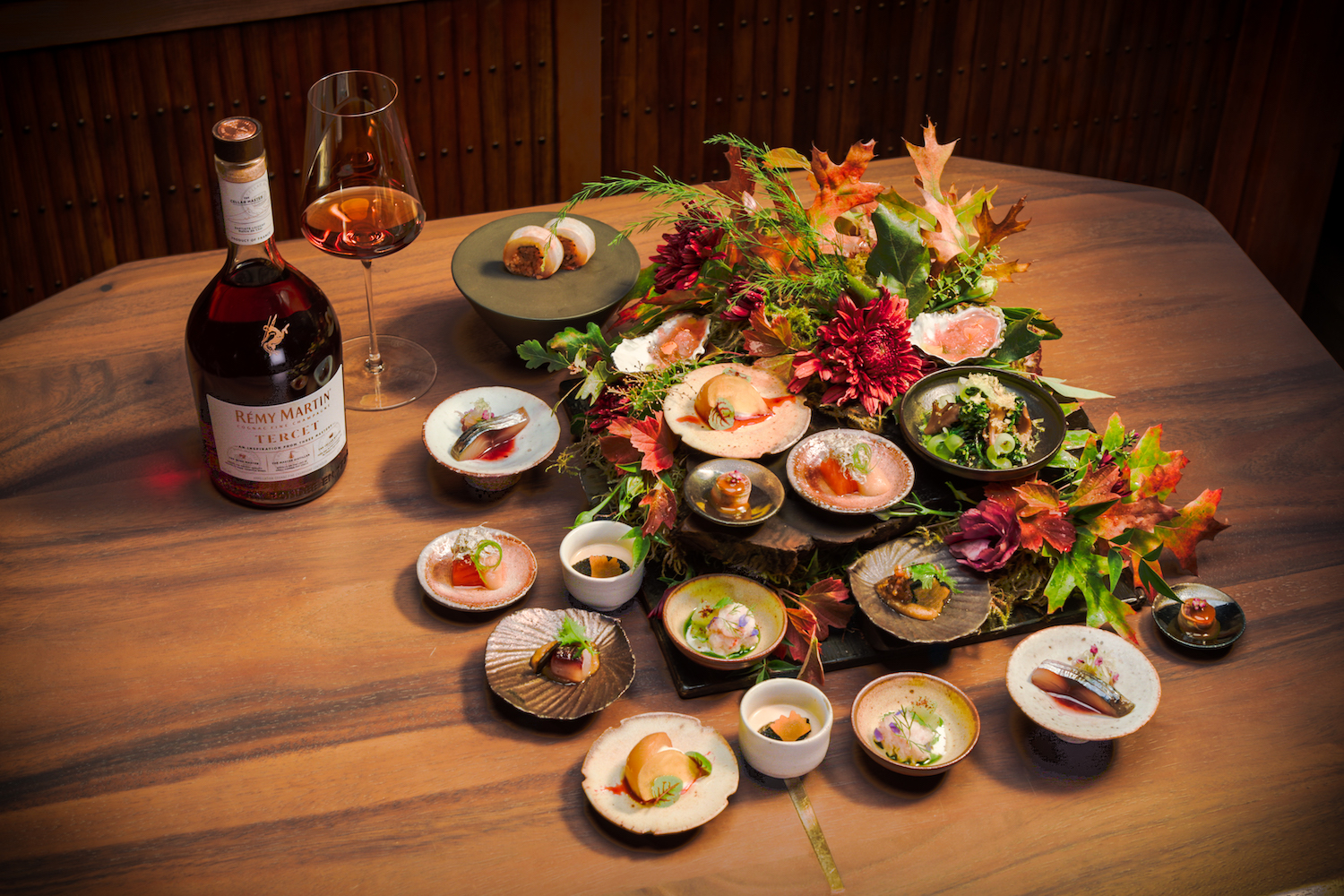 SingleThread 'Mid Autumn in Sonoma' tablescape. Photo courtesy of Rémy Martin
Dedication to excellence is the obvious theme that connects the House of Rémy Martin, The Michelin Guide, and Healdsburg restaurant and farm SingleThread. Less obvious, at least in the case of Rémy Martin and Michelin, is the trio's shared passion for sustainability. While SingleThread proprietors Katina and Kyle Connaughton overtly have made it their life's mission to combine the art of sustainable agriculture with culinary distinction, Rémy Martin and Michelin have flown slightly under the radar in this regard. Both deserve recognition for their own sustainable principles, and that recognition recently was provided when the three entities converged for a gastronomic event that highlighted positive changes taking place within the food industry. 
For nearly three centuries, the House of Rémy Martin, based in Cognac, France, has participated in forward-thinking viticulture via the implementation of ethical and environmental practices that preserve terroir, enrich the land and its people, and honor tradition. And in doing so, the brand has produced premium spirits that consistently appeal to the world's most discerning connoisseurs. A profound love of the land, a continuity of family ownership, and a passionate commitment to excellence have proved the company's cornerstones since its founding in 1724. 
Chef Romuald Feger's Crisp Apple and Steamed Okinawan Sugar Sponge Cake. Photo courtesy of Rémy Martin
As the exclusive global cognac partner of the Michelin Guide, and Global Partner of Michelin Star Revelation events, Rémy Martin celebrates Michelin's new Green Star designation, introduced in 2020, and presented to those who responsibly preserve resources and embrace biodiversity, reduce food waste and the consumption of non-renewable energy, and generally demonstrate an outstanding commitment to sustainable gastronomy and a more responsible future. SingleThread, already a three Michelin star designee, was one of the earliest recipients of this additional Green Star designation.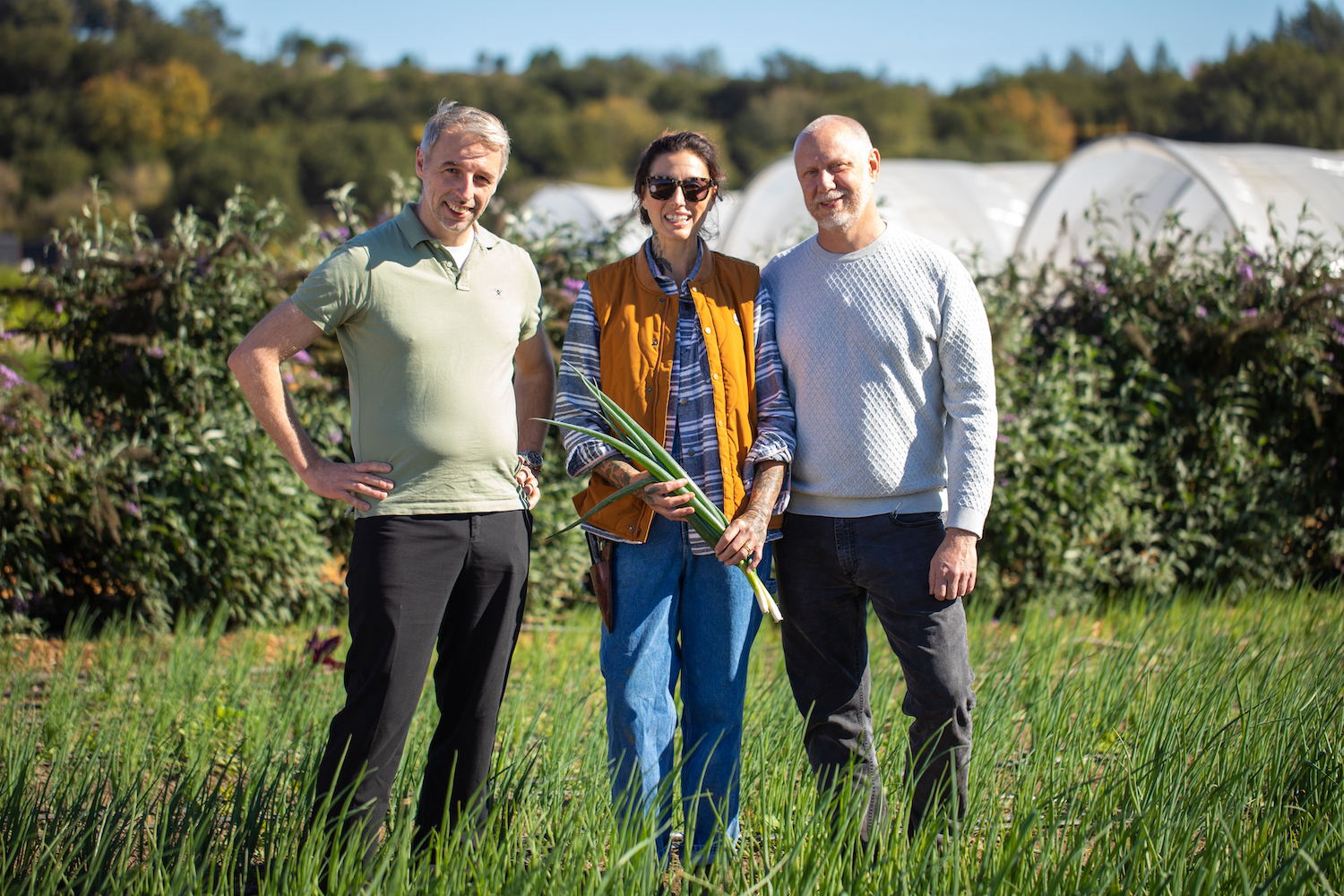 Rémy Martin's Executive Chef Romuald Feger visits Katina & Kyle Connaughton at their SingleThread Farm. Photo courtesy of Rémy Martin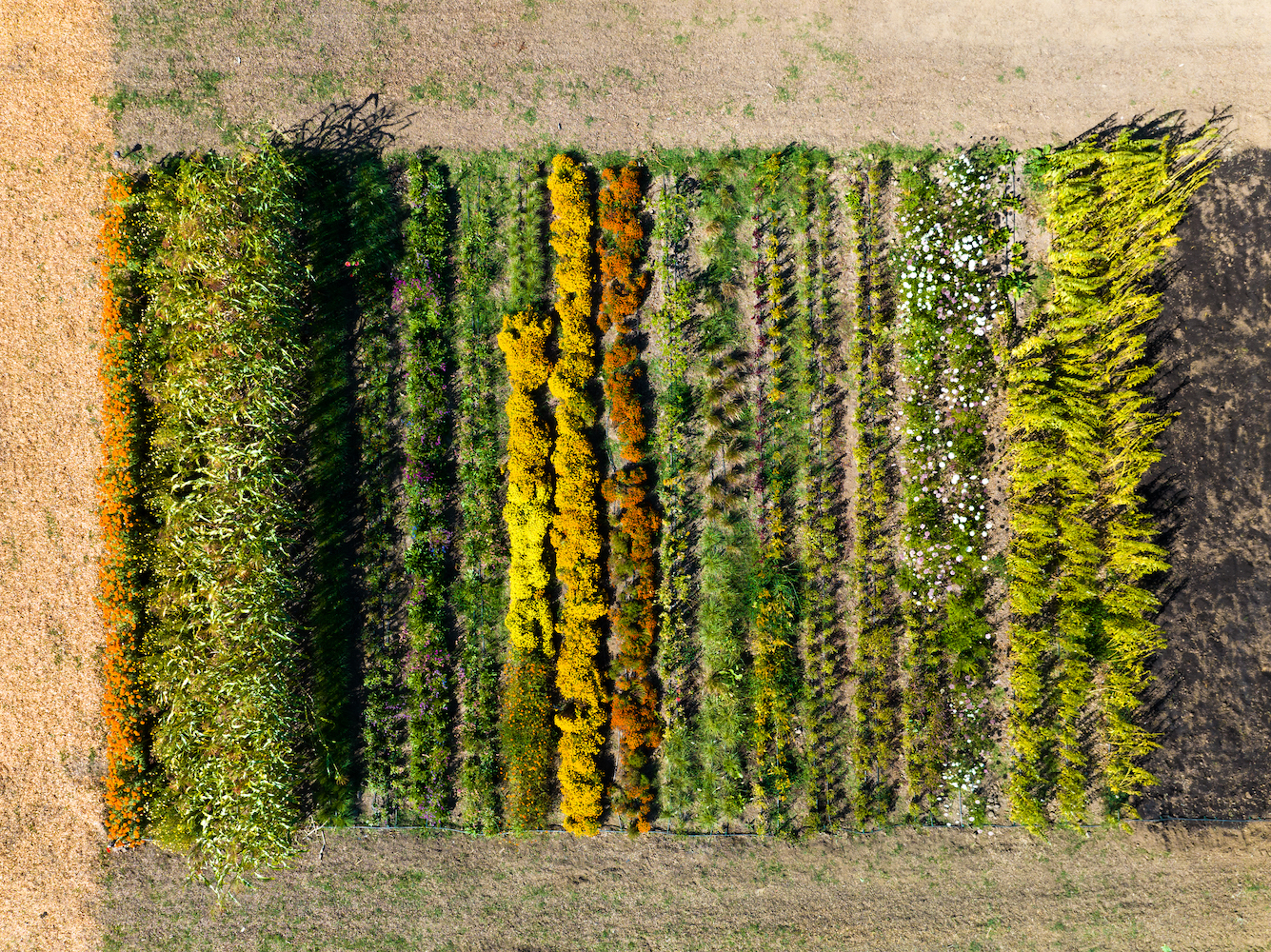 SingleThread Farm, Healdsburg, CA. Photo courtesy of Rémy Martin
A recent, exclusive two-day culinary and cocktail immersion in Northern California found guests harvesting ingredients from SingleThread's biodynamic Sonoma County farm, exploring seasonal and vibrant plant-based dishes at the Connaughton's second Healdsburg restaurant, Little Saint (each dish paired with Rémy Martin cocktails), and savoring delicate menu items rooted in Japanese tradition and principle at SingleThread, where the concept of omotenashi (the spirit of selfless hospitality) is ever present. The Four Hands dinner, prepared by Rémy Martin's Executive Chef Romuald Feger and Chef Connaughton, captured the heart of Cognac and introduced guests to a remarkable level of creative craftsmanship. To reflect the essence of the House of Rémy Martin, Chef Romuald, for instance, curated delectable dishes, such as a Crisp Apple and Steamed Okinawan Sugar Sponge Cake topped with Walnuts and indulgent Hay Ice Cream, to harmoniously compliment the opulence of Rémy Martin XO and its aromas of juicy plums, candied oranges, and floral notes, while Chef Connaughton and his team prepared signature SingleThread creations such as the 'Mid Autumn in Sonoma' starter of small bites, presented within Katina's dazzling seasonal tablescape, and paired with Rémy Cointreau's Telmont Brut Rosé Champagne.
Chef Kyle Connaughton and Chef Romuald Feger in the SingleThread kitchen. Photo courtesy of Rémy Martin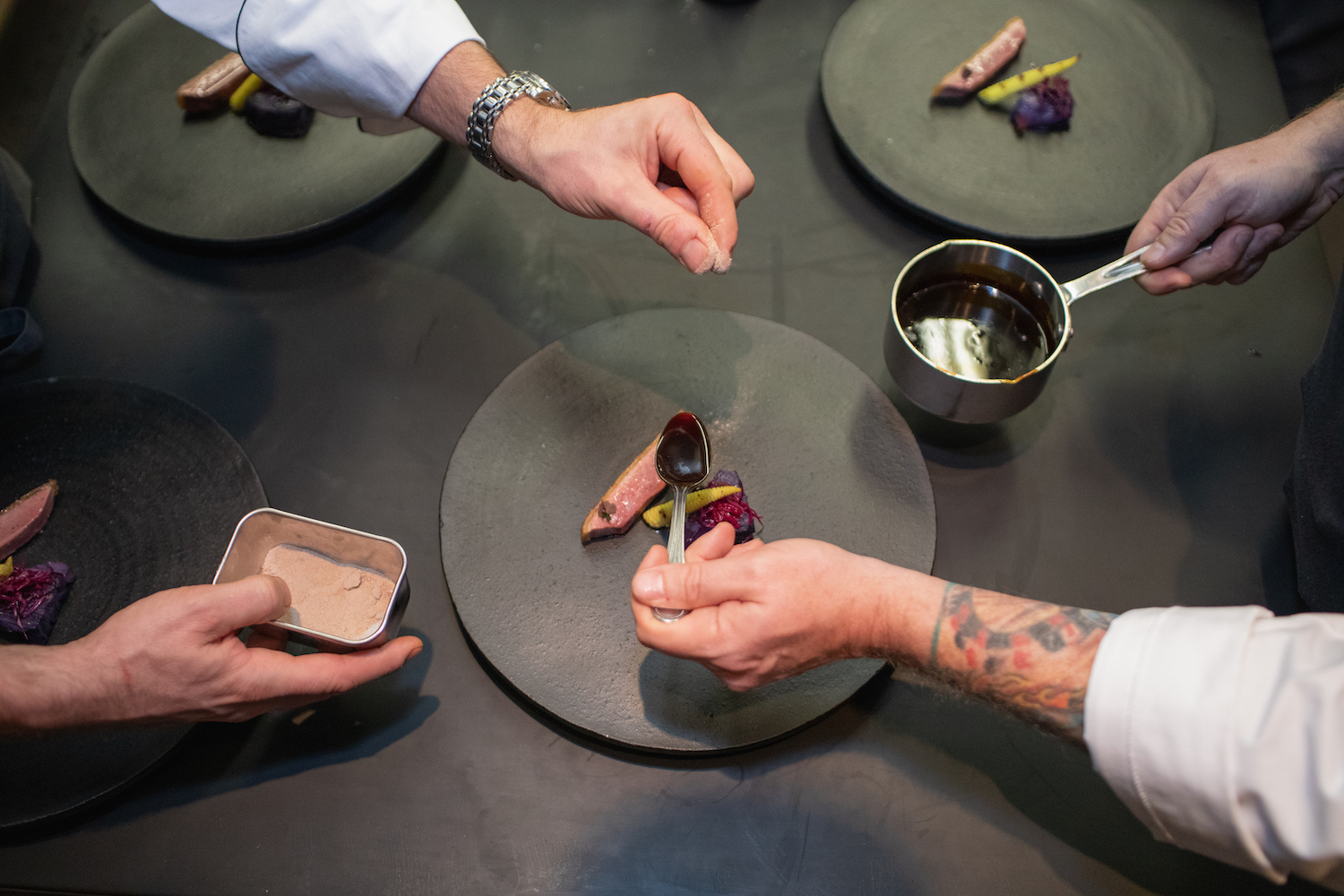 Chef Romuald Feger and Chef Kyle Connaughton prepare their 'Four Hands Dinner.' Photo courtesy of Rémy Martin
"By teaming up with the Michelin Guide, we were excited to promote the efforts and actions of restaurants such as SingleThread, who have championed the art of sustainable agriculture and culinary excellence," said Feger. "Rémy Martin and Michelin are two emblematic houses rooted in French culture, and it is a partnership in which I take great pride. I was equally proud of this opportunity to pair SingleThread's forward-thinking, land-rooted cuisine with the elegant aromas of Cognac fine Champagne."
'We were thrilled to collaborate with the Michelin Guide, Rémy Martin, and Chef Feger on this special event to explore sustainable agricultural practices and cuisine," added Connaughton. "It's incredibly exciting to be able to shine more of a spotlight on supporting good food systems and its larger significance to local communities.'