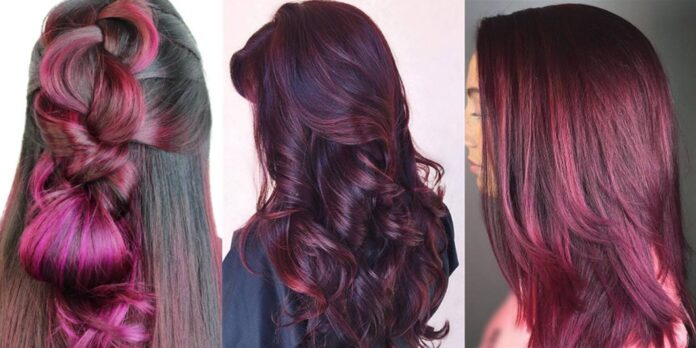 Everybody becomes bored with the same old look at some point or the other. We go for haircuts, hair colours, etc., to transform our looks. Well, haircuts and hair colours are the easiest way of transforming your looks. And since it is New Year, we must try a new look! Hair colour for women has various benefits apart from transforming your look. So, let us have a look at some of the benefits of hair colouring.
Complimenting your Features:Hair Colours compliments your facial features, complexion, and undertone. You might have a warm or cool undertone and according to that, you can select the hair colours. Natural hair colours make your appearance dull and tired after some time. Hair colours add vibrancy to your locks and make them look healthy. But selecting a good hair colour is a task. If you choose the wrong hair shade, your entire look will go downhill. So, make sure you determine your skin tone and then select a colour from the hair chart that will impart a natural glow to your skin.
Shine & Dimension:Hair colours are warm, pop, and funky. No matter which hair colour you go for, it is important that the shade must turn heads whenever and wherever you walk in. shades like brown, caramel, red, etc., reflect light to your hair and make them look voluminous, full of depth, dimension, and richness. Every hair colour is a luxury shade that can impart a beautiful glow to your hair and face. Thus, make sure you select a colour that enhances your skin tone.
Fun:A hair colour reflects your personality and mood. A dull, boring hair colour means you are boring. But coloured hair reflects that you are happy and glowing. Hair colours make your hair look healthy and voluminous. Hair colours are a protective layer that prevents radical damage. Thus, hair colour depicts the mood and it is a fun experience to go through.
So, these are some of the benefits of hair colouring. Hair colouring is an art and it is very tempting! The colours in your hair reflect light and give you various shades like a rainbow! Now that you know the benefits, let us have a look at the best hair colours for women in 2022.
Best Hair Colours for Women
There are a lot of shades to choose from when you go for hair colouring. But first, you need to determine your skin tone and undertone because every colour will not look good on you. There are some shades for warm skin tone and some for cool skin tones. But today we will discuss the shade that goes well with every skin tone, i.e., strawberry blonde shade! Read on to know the best strawberry blonde shades and the ways to style them!
1. Strawberry Hair & Blonde Highlights
This is a shade for fair skin girls. As you can see, in this hair shade, two colours are blended, i.e., strawberry and blonde. Strawberry is a very light shade of red that brings out your fair complexion and makes your hair look like a cinnamon bun! This is a warm shade that complements your black hair as well! so, try out this shade and give your hair some depth. Try it out now!
2. Strawberry Blonde Ombre Hair
This shade is one of the coolest trends this year. You need to try this hair because it is really amazing. This hair colour has a fierce reddish shade with glossy rose blonde tips that make your hair full of shine and lustre. This shade is best for all skin tones that make your hair look vibrant and breathable. Thus, for an overall gorgeous look, try out this hair shade.
3. Strawberry hair with Highlights & Lowlights
Give your hair a soft touch with this hair colour. This hair colour gives a soft red touch to your roots and gets blonde as it comes down. The roots look seemingly natural as it is a delicate shade. You can add highlights or lowlights to this shade to make your hair look more voluminous and full of dimension. This shade is suitable for fair skin tones and it complements your eye colour as well.
4. Dark Strawberry Blonde Hair Shade
This is one of our favourite shades! This shade is best for medium and long hair and suits brunettes. This shade has a tinge of chocolate shade that enhances your natural hair colour. This shade suits every skin tone and undertone. You can go for highlights with this shade as the streaks will look more subtle. This shade is for someone who likes switching to the lighter side of the colour. You can style your hair in curls and waves with this shade. Try it now!
5. Strawberry Blonde Red Hair Shade
Do you like redheads? So, here we are with a shade of red that is something that you will definitely like to try! It is not a dramatic shade. This hair colour is a mixture of blonde, strawberry, and bright red tones that makes your hair look hot and fierce. This hair colour is for the times when you want a complete hair change from root to tip. This hair shade has a red at the roots and it keeps on getting lighter with blonde and strawberry as it gets down. So ladies, if you are looking for some hot and spicy stuff, this hair colour is the one you must go with!
6. Platinum Strawberry Blonde Hair Shade 
Platinum is a shade of grey that is becoming a trend lately. Grey hair is not liked by everyone. But when this platinum shade is blended with strawberry blonde shade, it gives out a more gorgeous look. These shades combine together and give you a chic look. If you have a natural blonde shade, this hair colour will look good. With a tinge of strawberry, this shade adds dimension and makes your hair look thick. Add volume and vibrance to your hair with this amazing shade. Try it now!
7. Copper Strawberry Blonde Hair Shade
So, a subtle shade comes here at last! This is one of the subtlest shades that not only enhances your complexion but also gives your hair an alluring look. Copper is a soft and warm shade of brown that blends so smoothly that it looks like your natural hair. We are a little biased towards this shade because it has colour, warmth, intensity, etc. This hair colour is a package that takes strawberry blonde to a whole new level. This shade is apt for long hair and can be styled in loose waves.
So, these are the best hair colours for women. These hair shades give you a chic look and make your entire appearance chic and beautiful. These hair colours are a must-try this season! Also, if you love colouring your hair, make sure you are going with natural hair dyes. Godrej Expert Rich Crème is a 100% natural hair dye that is enriched with Vitamin E, Amla, Reetha, etc., to nourish your hair from root to tip. This dye adds colour and treats your frizzy hair, thereby making it manageable. Thus, go for this natural hair dye and add some vibrance to your hair.