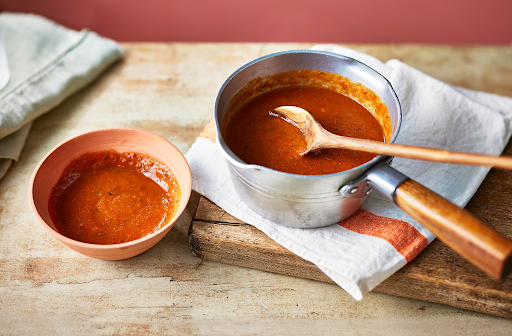 Homemade enchilada sauce is a delightful blend of rich, savory flavors that elevate any Mexican-inspired dish to a whole new level of deliciousness. Crafting this sauce from scratch not only allows you to control the ingredients but also ensures an authentic taste that store-bought versions often lack. In this blog, we will explore the art of making homemade enchilada sauce and present a variety of mouthwatering recipes that showcase its versatility and scrumptiousness.
The Essence of Homemade Enchilada Sauce
At the heart of every enchilada dish lies the enchanting homemade enchilada sauce, a vibrant and aromatic concoction that infuses the traditional Mexican flavors we all love. Its base typically comprises tomatoes, onions, garlic, chili peppers, and an array of spices, creating a harmonious balance of heat and zest. By preparing your own enchilada sauce, you have the flexibility to tailor the heat level and adjust the flavors to suit your palate.
The Art of Making Homemade Enchilada Sauce
While the process of making homemade enchilada sauce might seem intimidating, it is surprisingly simple and well worth the effort. 
Ingredients:
2 tablespoons vegetable oil
2 tablespoons all-purpose flour
3 tablespoons chili powder (adjust for desired heat)
1/2 teaspoon ground cumin
1/4 teaspoon garlic powder
1/4 teaspoon onion powder
1/4 teaspoon dried oregano
2 cups tomato sauce
2 cups vegetable or chicken broth
Salt and pepper to taste
Instructions:
In a saucepan on medium flame, put some vegetable oil. Add the flour and whisk continuously for about a minute to form a roux.
Stir in the chili powder, cumin, garlic powder, onion powder, and dried oregano. Continue whisking for another minute to toast the spices and enhance their flavors.
Gradually pour in the tomato sauce and vegetable or chicken broth while stirring constantly. Bring the mixture to a simmer and let it cook for 10-15 minutes until the sauce thickens.
Sprinkle some salt and pepper as your taste buds prefer.
Once ready, your homemade enchilada sauce is all set to work its magic in a variety of delicious dishes!
Recipes to Try with Homemade Enchilada Sauce
Classic Cheese Enchiladas
Roll corn tortillas filled with a blend of your favorite cheeses and coat them generously with homemade enchilada sauce. Top with more cheese and bake until bubbly and golden brown. Serve with chopped cilantro and a dollop of sour cream for a truly indulgent treat.
Chicken Enchiladas
Sauté shredded cooked chicken with onions and bell peppers, then roll the mixture in corn tortillas. Pour a layer of red enchilada sauce into a baking dish, arrange the filled tortillas, and cover with more sauce. Bake until the sauce is bubbly, and the edges of the tortillas are slightly crisp.
Beef Enchilada Casserole
Brown ground beef with onions, garlic, and spices, and layer it with corn tortillas and homemade enchilada sauce in a baking dish. Top with cheese and bake until the casserole is heated through and the cheese is melted and bubbly.
Vegetable Enchiladas
Sauté a medley of your favorite vegetables, such as zucchini, bell peppers, and spinach. Roll the vegetables in corn tortillas, coat them with red enchilada sauce, and bake to perfection. Top with avocado slices and a sprinkle of fresh lime juice for a burst of flavor.
Wrapping Up
Homemade enchilada sauce is the heart and soul of countless mouthwatering Mexican dishes, offering a burst of flavors that captivate the senses. Crafting this sauce from scratch allows you to personalize the heat and zest, resulting in an authentic taste that enchants your taste buds like no other. Whether you prefer classic cheese enchiladas or explore adventurous creations like beef enchilada casserole, homemade enchilada sauce is the secret ingredient that transforms ordinary meals into extraordinary culinary experiences. So, roll up your sleeves and embark on a culinary journey with these enchanting enchilada sauce recipes!