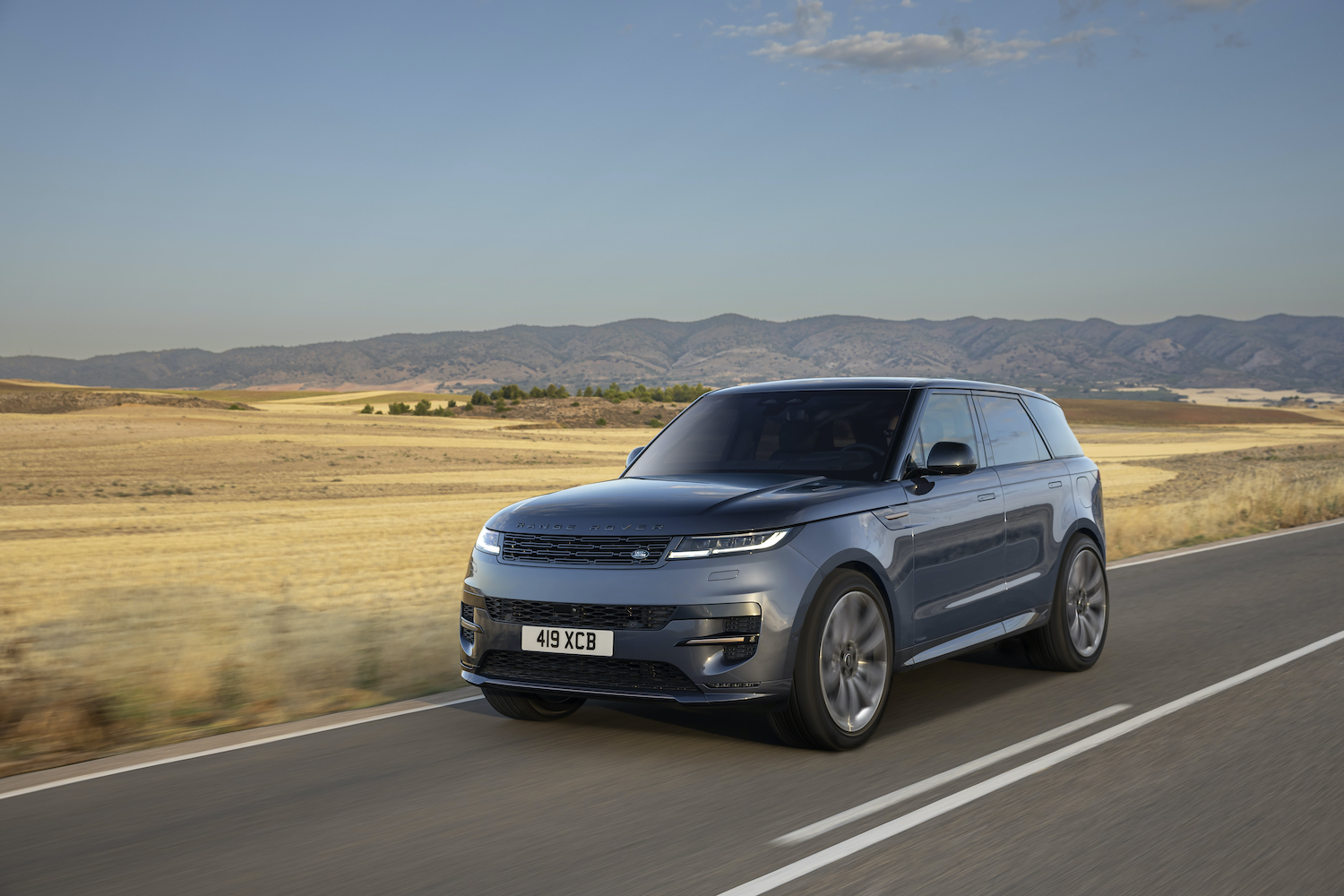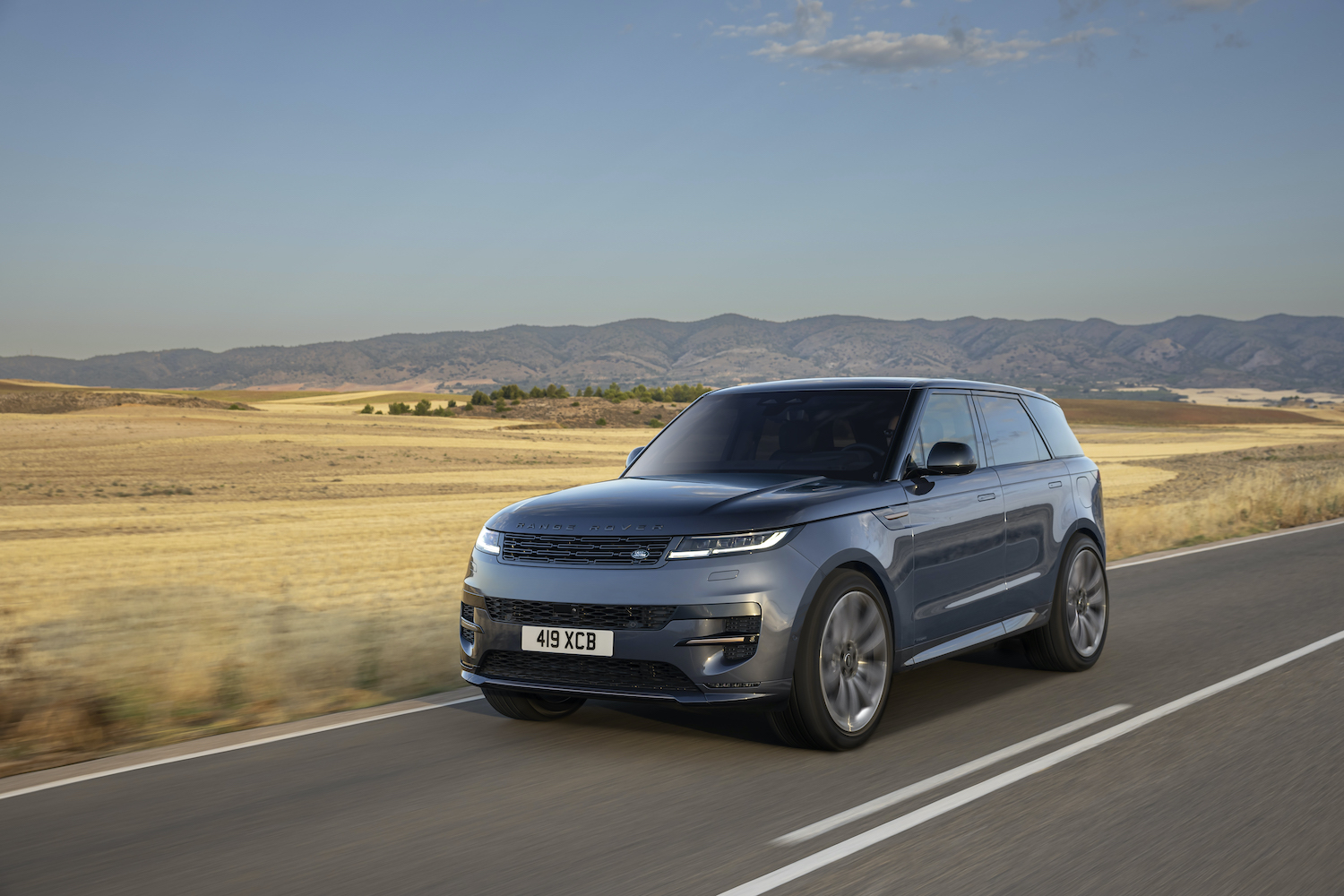 Range Rover Autobiography P510e PHEV
With Jaguar Land Rover Chief Creative Officer Jerry McGovern's penchant for reductive design, The Madrid EDITION made a fitting base for the latest Range Rover global drive event and the debut of its 2023 Sport and plug-in hybrid model a few weeks ago. The latest-generation luxury SUV from the heritage British carmaker cruised motorways and tackled off-road trails with aplomb and showcased new features, including all-wheel steering, a hybrid drive-train, and adaptive off-road cruise control. More than a few heads were also turned in the style-conscious Spanish capital.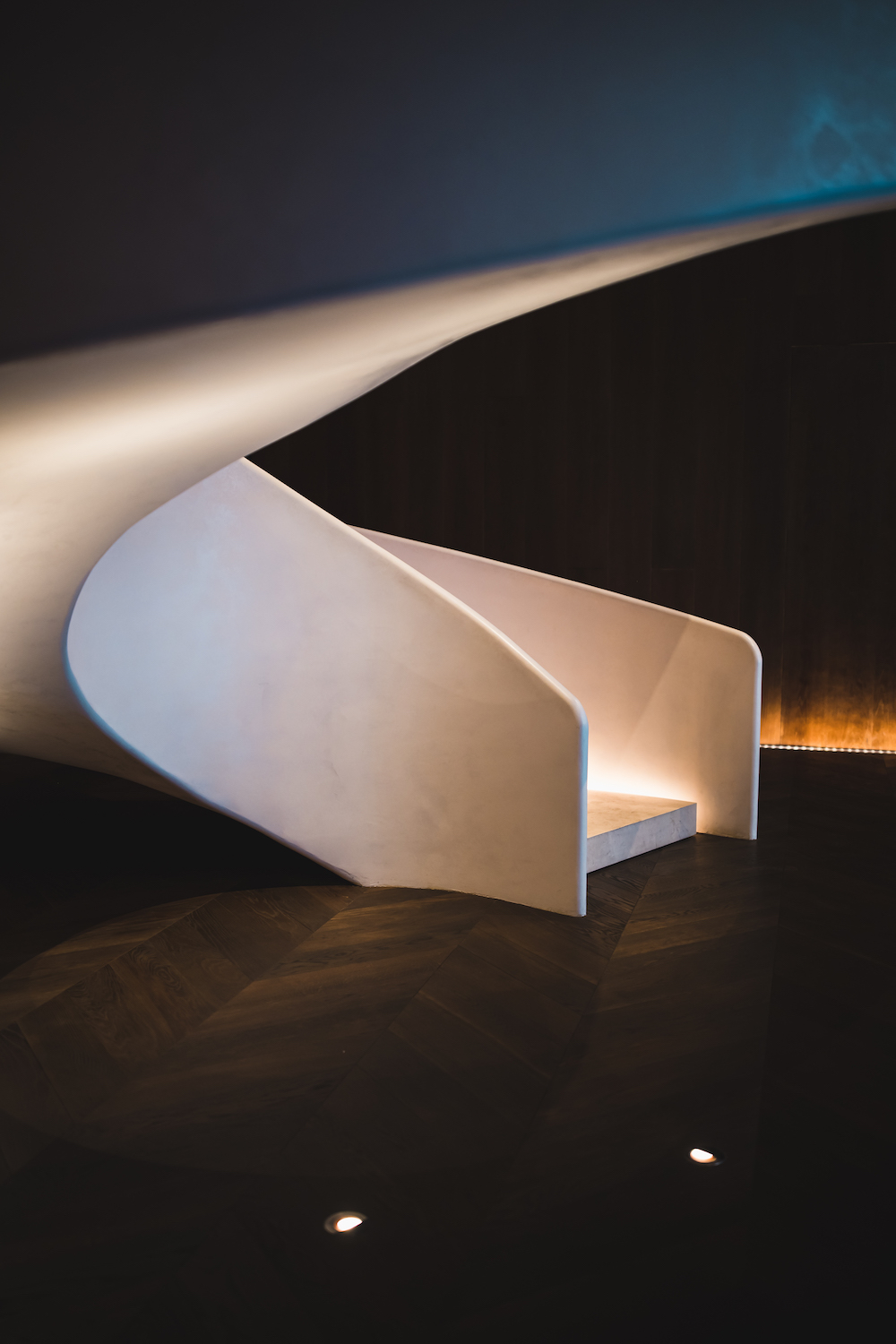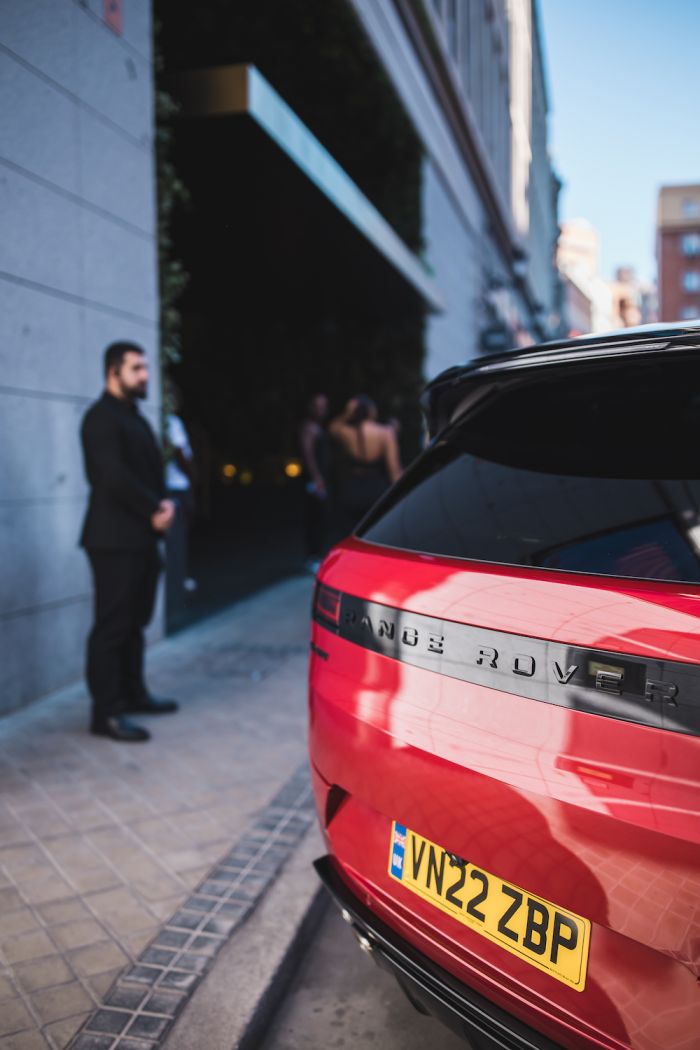 The Madrid EDITION
Modern Luxury: The New Range Rover Sport
We're chauffeured to the town of Algete, and Soto de Mozanque – the stately former hunting lodge of Spanish noble and military officer Count de las Torres, now owned by the Duke of Albuquerque – to get eyes on the Range Rover Sport P530 First Edition. And with its sexy Firenze Red exterior, black contrast roof and privacy glass, plus 23-inch gloss black rims inside Pirelli Scorpion Zero tires, it's a seductive sight to behold.
One of the best-selling luxury SUVs since it launched in 2005, this third-generation Sport ostensibly takes design cues from modernist architecture. With a silhouette akin to its Range Rover sibling, the clean lines and refined styling make an elegant statement. The swept-back profile, hidden door handles, slender LED taillights, and squared off-exhaust tips add to the deliciously minimal aesthetic. So far, so head-turning. 
Inside, the cabin is swathed with perforated Ultrafabrics in Light Cloud and Ebony. Famous for creating handsome interiors where practical meets luxury, Jaguar Land Rover provides an eco-friendlier option here thanks to its partnership with animal-free leather brand Ultrafabrics. The performance material is sustainable and lightweight with a premium feel to keep the most discerning Range owner happy – it even has the same tactile qualities as the "real thing." Tech includes the latest Pivi Pro infotainment system, balanced out with physical buttons for climate settings and volume.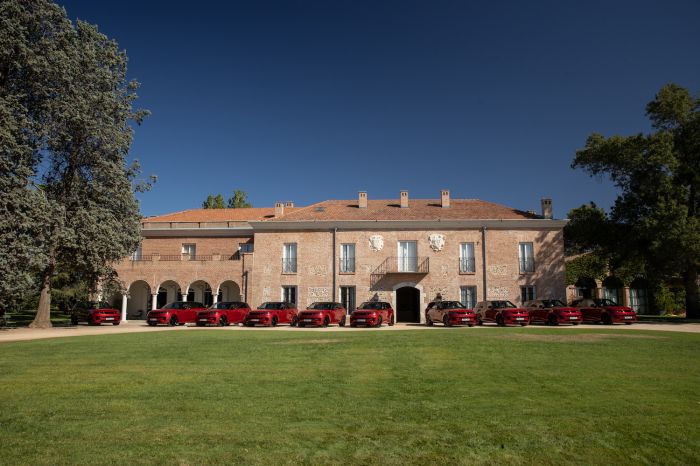 Soto de Mozanque
Algete to Downtown Madrid
After a light breakfast and thoughtful speech by Global Brand Communications Director Richard Agnew, respectfully acknowledging the recent passing of Queen Elizabeth II and Jaguar Land Rover being in a period of official mourning, we're invited to hop in a car with our assigned partners and get on the road for the first drive route back into Madrid. Being my second outing with the brand means I'm a little more au fait with the controls when it comes to adjusting the sculpted seat and driver side mirrors. However, after developing a love/hate relationship with it last time, I decide to switch off the Clearview camera.
It's a straightforward route along the E-5 and A-1 into central Madrid and our next destination – the Museo Nacional del Prado for a private behind-the-scenes tour of the art restoration department. The new Sport boasts a trio of powertrains, but today we're in the 4.4-liter twin-turbo V-8, which puts out 523-horsepower mated to an 8-speed automatic transmission that provides a snappy 4.3-second 0-to-60 mph acceleration. The dynamic air suspension creates a sense of floating on the road, which, combined with the all-wheel steering means it's very smooth sailing. I'm smitten.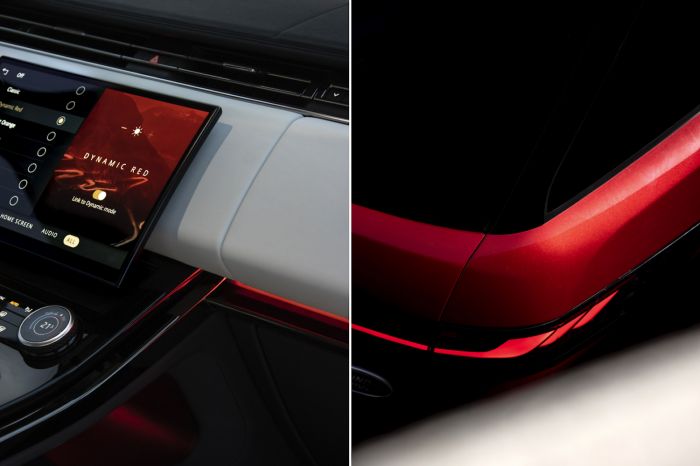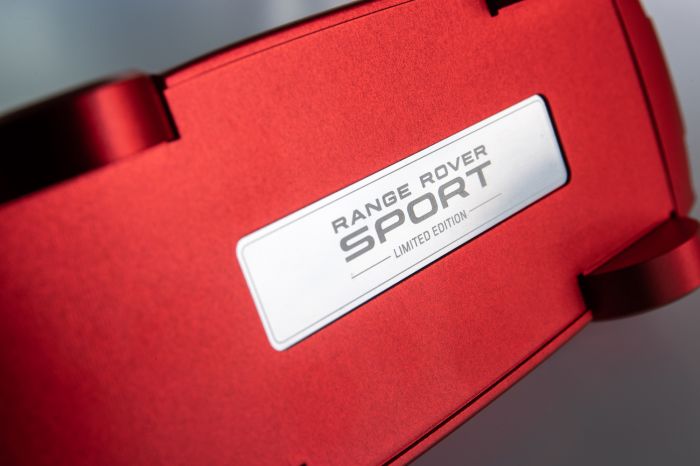 'Less is More' Design
The active noise canceling system makes the cabin whisper-quiet – even the door fabrics reduce road noise – so I could easily summon Amazon Alexa while leaving my smartphone out of hand's reach on the center console charging pad. Although the Nav system was pre-programmed, my partner has a quick scroll through some of the settings – as a first-timer, he says they felt intuitive to use. Save for a missed exit on a smaller roundabout (more on that in a moment) unlike some members from the group that day we never skip a beat finding our way back into the city.
While the traffic was mellow on the motorways, the pace picked up once we got closer to downtown. More frenetic with last-minute lane changes and optional to zero use of indicators – but this is where the Sport's driver assistance came in handy. Highlights include the adaptative cruise control (excellent in stop-and-go city traffic), blind spot assist, and autonomous emergency braking, although the latter was, thankfully, never activated. I later read that allowing another driver into your lane can be considered a sign of weakness in Spain. This could account for the actions of a man who, after I offensively merged onto the M-30, then drove alongside the car gesticulating wildly. Being behind the wheel of an old Land Rover, I assumed he was simply conveying his passion for the brand and waved back.
And while the lane-keep assist might be a helpful autocorrect tool when driving for extended periods on nice stretches of well-marked highway, it was sadly of little use on the larger roundabouts in central Madrid. Upon entering, lane markings vanish making them something of a free-for-all – welcome to the Wild West. Unscathed, slightly shaken but not stirred, I spy a few of the female Range Rover team members in their black linen dresses and white sneakers and park at our rendezvous point behind the Prado.
The Sport handled beautifully throughout and during end of day one pre-dinner drink in the EDITION bar give myself a mental pat on back for surviving the drive – through central Madrid during rush hour, no less.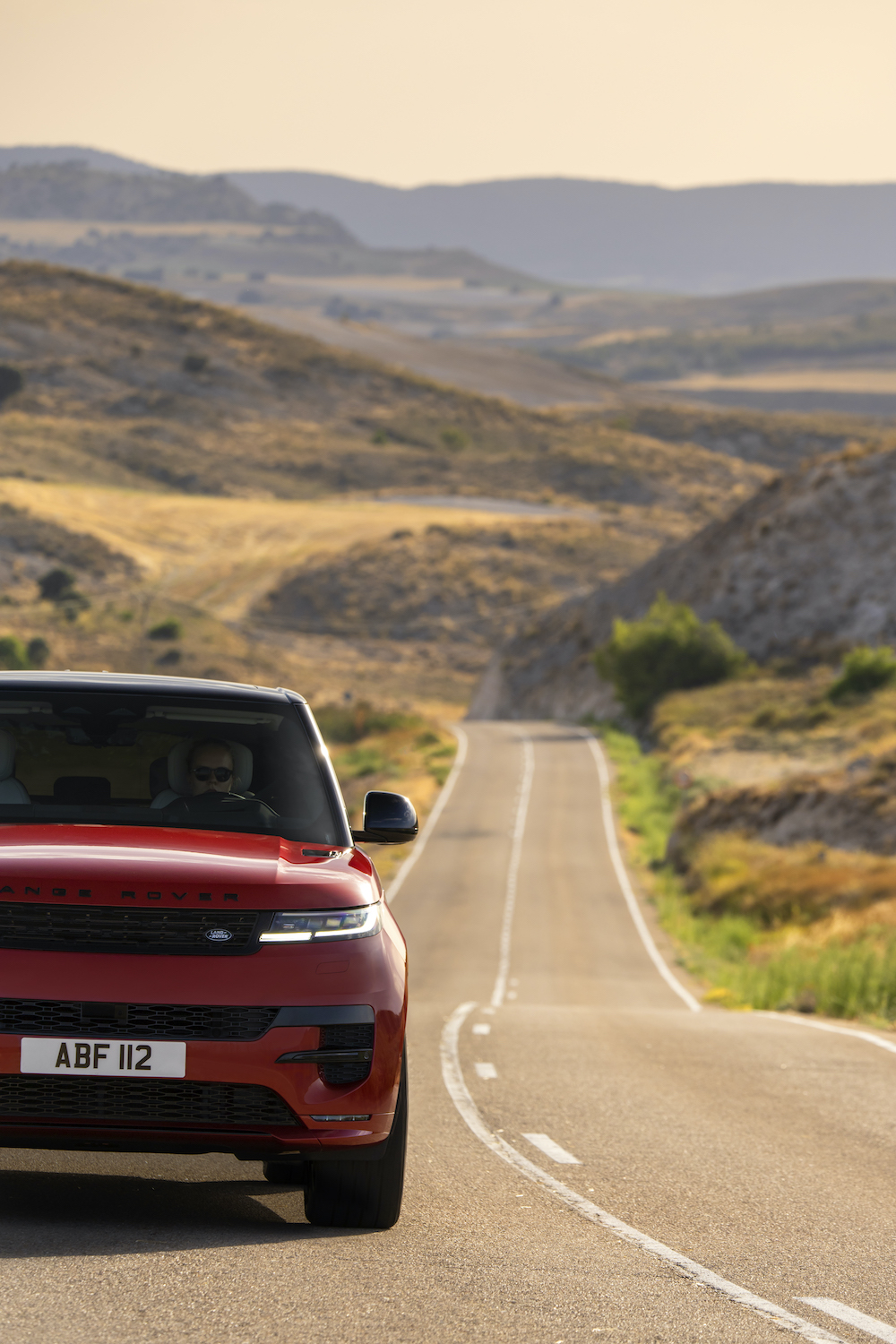 Range Rover Sport P530 First Edition

Plug-In Power: Autobiography P510e PHEV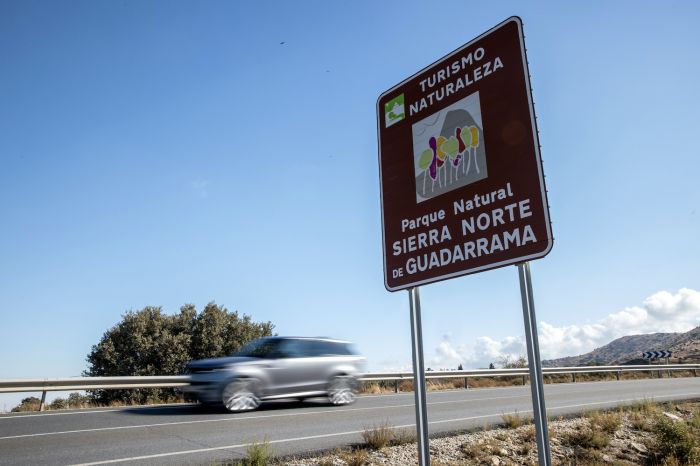 The following day, a fleet of Range Rover PHEVs in Varesine Blue are precision diagonal parked outside the back entrance of The Edition MADRID. While my drive partner makes his way down from breakfast, I hop in and look around – as before, everything in the cabin feels suitably posh and polished. The interior color palette is a tasteful combination of Raven Blue and Ebony in the same high-touch Ultrafabrics. The big difference in today's ride, though, is the powertrain. The Autobiography P510e is a plug-in hybrid version that boasts a 3-liter, petrol straight six with a 32kWh battery pack and promises an electric-only range of 70 miles. 
We set off and let the Nav system guides us through the labyrinthine streets surrounding the hotel to ever broader and faster moving roads before we're suddenly on the N-VI motorway headed towards the municipality of Torrelodones northwest of Madrid. From there, we jump on the M-601 – a mountain road lined with pine trees that climbs to 6,102 feet. It takes us by the pretty town of Navacerrada and entrance to Valle de la Barranca nature preserve in the Sierra Norte de Guadarrama – a popular hiking spot and home of the Puerto de Navacerrada Ski Station. Over the saddle, we put the PHEV through its paces on an excellent selection of hairpins and switchbacks on the backside that eventually gives way to golden grasslands and grazing cattle in the neighboring region of Castile and León. We've been in the default Parallel Hybrid mode for the duration, that combines gas and electric and provided plenty of oomph and nice smooth acceleration. 
During the drive, we also try the massaging seats and my drive partner connects his iPhone to the Apple CarPlay, curating an impromptu playlist for our petite road trip that spans Beyonce, Sam Smith, and Swedish pop star Robyn. We're both impressed with the headrest speakers and crisp quality of the Meridian sound system. With 502 horsepower, the PHEV can make a pretty effortless 60 mph in 5.4 seconds and has a top speed of 150 mph. However, with legal considerations, we don't even get close to tasting it on that section – nor on the final stretch of the motorway en route toward Madrona and our next stop: the off-road course at Finca Aldeallana.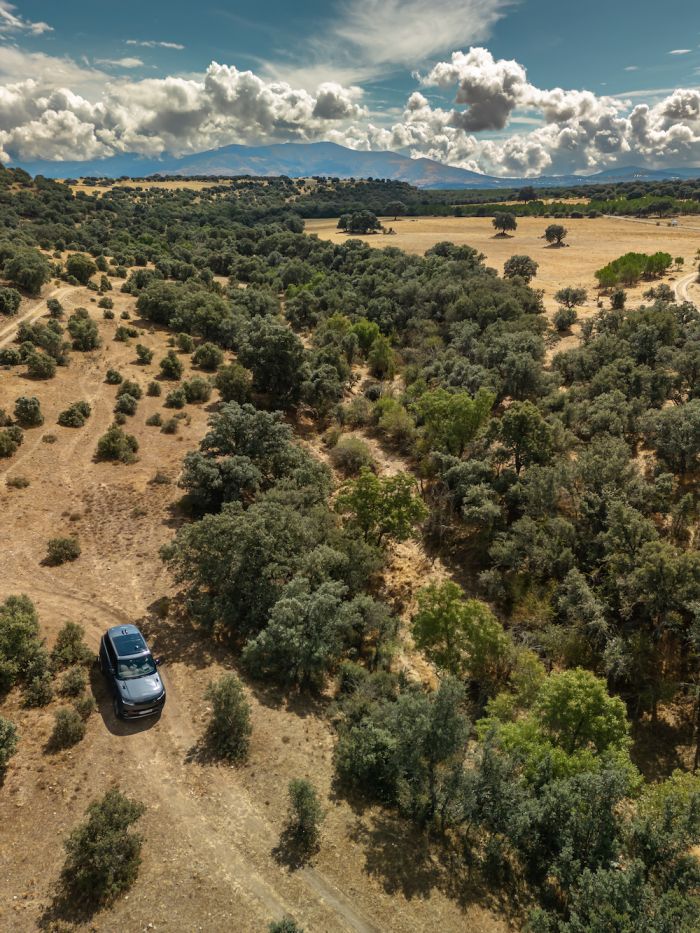 Off-roading at Finca Aldeallana
Effortless Off-Roading
We follow a track off the main road and spot a gentleman standing among the bushes who signals us to stop, which means it's time to put the all-conquering capabilities of the PHEV to the test on Range Rover's challenging off-road course. Yes, with on-road tires. We're directed to the Terrain Response System and switch to low mode. Thankfully a team of experts are on hand to guide us through narrow gates, several impossibly steep inclines, and past one totally unphased cow. The demanding dust-covered route proves a perfect test for off-road driving modes, including the new Adaptive Off-Road Cruise Control system.
The 360-degree camera meant, somewhat unnervingly, that I could see every rock although I struggled to stop looking through the windshield. The camera provided my eyes to see through the bonnet and reveal the road beneath – or in this instance a steep metal ramp 'created to showcase the vehicle's abilities to scale angles with ease' – that we were summiting. My heart raced during several sections, including the foot-off-the-brake descent on the other side of said steep metal ramp.
After a fantastic farm lunch, Tom Harrison, the lovely Global Senior PR Officer from Range Rover's Special Vehicle Operations unit, showed us around a stunning Range Rover SV long wheelbase (LWB) parked in the courtyard. The famed Champagne fridge – complete with a chilled bottle of Veuve Clicquot and Waterford flutes – made an appearance, the Signature Suite Executive Class rear seats were reclined and airline-style table deployed. The gloss finish exterior in Icy White looked oh-so tasteful against the Corinthian Bronze contrast roof and Caraway leather interior but with a starting price of around $220,000 for these kind of sophisticated rear seat perks it's a Range perhaps best suited to those with a driver.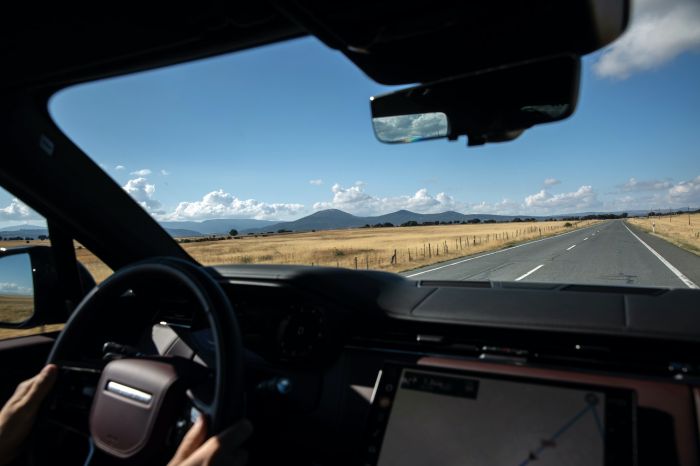 Back to Madrid
Some of the group chose to drive back to Madrid, although several journalists, myself included, opted to be chauffeured in the Range Rover SV P510e Electric Hybrid. After the two-hour mountain pass route and excitement of the off-road course, it felt lovely to settle in and watch the countryside unfold as we took a more direct way back toward the city.
During our SV look-see, Tom mentioned that the PHEV's hybrid system uses advanced e-Horizon navigation data to optimize energy usage for travel in low-emission zones. Madrid currently has two Special Low Emission Protection Zones – the Central District and Plaza Elíptica – with plans for the entire city to become a Low Emission Zone by 2025. He says to see if we can catch when the P510e senses this and switches to pure EV mode. Sadly, I fail to notice as, much like the First Edition, the ride feels flawless and before I know it, we're suddenly outside of the hotel, and there's talk of spa treatments, dinner reservations, and sangria.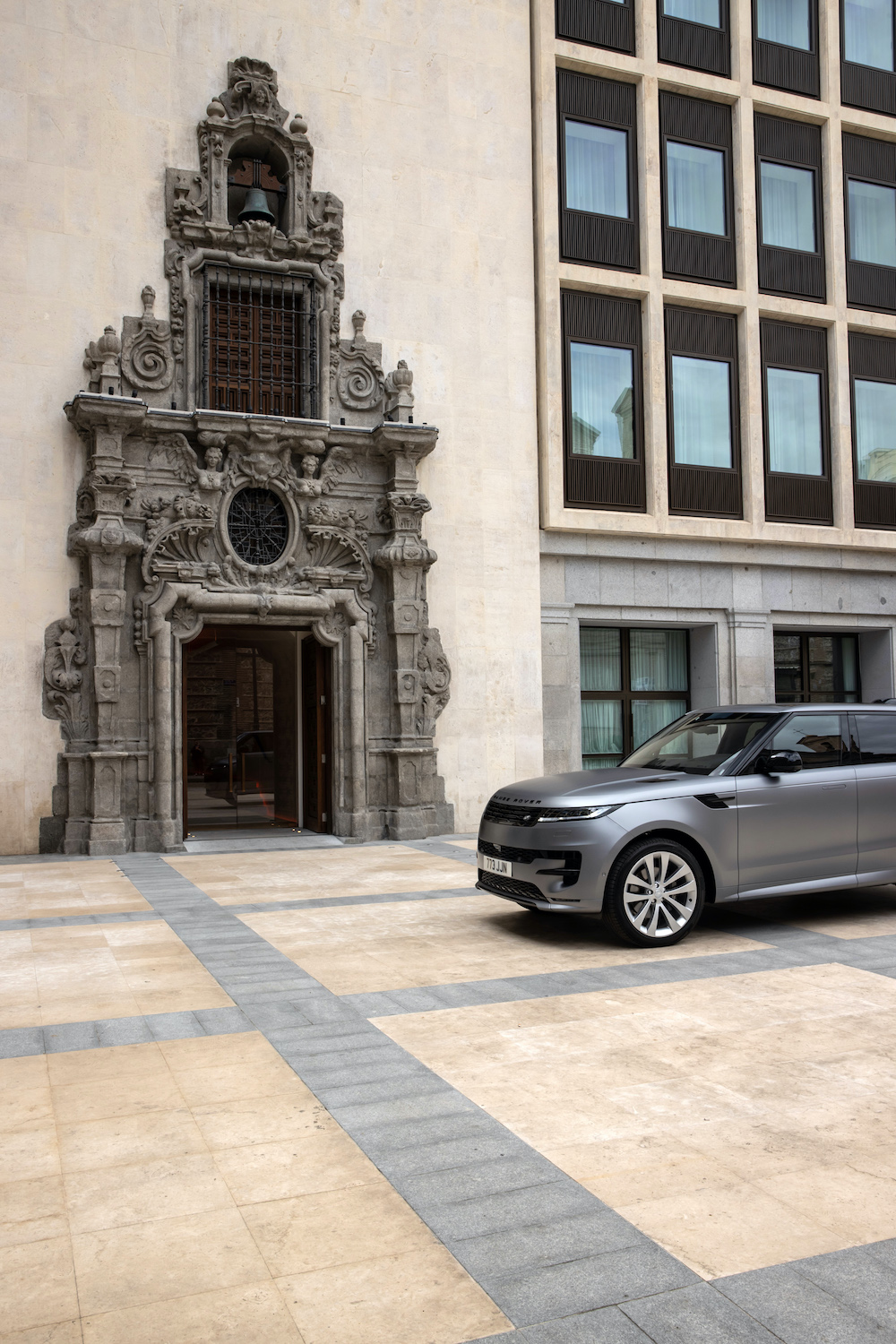 The Madrid EDITION
Anyone interested to experience off-roading with Range Rover stateside should head to one of the Land Rover Experience Centers in Manchester, Vermont, Asheville, North Carolina, or Carmel, California, which offer entry-level and advanced drive programs for first-time off-roaders and Land Rover owners keen to get their wheels – and possibly Hunter wellies – muddy.
The Range Rover Sport has a starting price of $83,000, the Sport PHEV $104,900 and Sport First Edition at $121,500. It's also worth noting that an all-electric version has been confirmed for 2024. Visit landroverusa.com for more details.