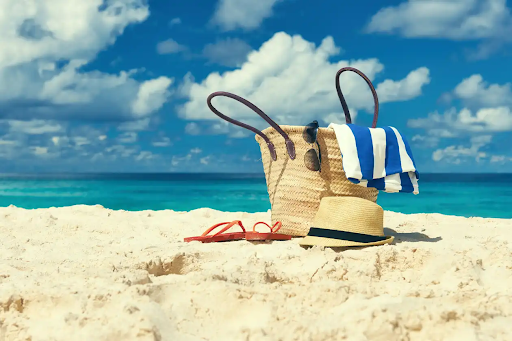 When summer arrives, and you're planning your perfect beach day or vacation, there's one essential item that often gets overlooked but plays a crucial role in your beach experience: the XL beach bag. These extra-large beach bags are stylish accessories and practical for carrying all your beach essentials. In this ultimate guide, we'll walk you through everything you need to know to choose the perfect extra-large beach bag for your summer adventures.
Size Matters
The first and most critical factor to consider when choosing a beach bag is its size. After all, the whole point of a beach bag is to have ample space to carry all your beach necessities. Think about what you typically bring to the beach: towels, sunscreen, snacks, water bottles, a change of clothes, and perhaps a good book or a tablet. Make a checklist of these items to estimate the space you'll need.
When shopping for a beach bag, check the bag's dimensions and capacity. It should comfortably fit everything you plan to take to the beach. Remember that bigger isn't always better, as an excessively large bag can become unwieldy. Aim for a size that strikes the right balance between spaciousness and manageability.
Material Matters Too
You should also give some thought to the material of your large beach bag. Beach bags are often exposed to sun, sand, saltwater, and other harsh elements, so durability and resistance to wear and tear are essential. Following are some widespread materials to consider:
Canvas:

Canvas bags are sturdy and durable. They can withstand rough beach conditions and are easy to clean.

Mesh:

Mesh beach bags are excellent for allowing sand to escape easily. They're lightweight and great for keeping your belongings well-ventilated.

Nylon:

Nylon beach bags are water-resistant and quick-drying, making them perfect for beachgoers who love watersports.

Straw or Rattan:

These natural materials offer a trendy, beachy look but may not be as durable as synthetic materials.
Pockets and Compartments for Organization
Keeping your beach essentials organized is a breeze with a beach bag that has multiple pockets and compartments. Look for bags with interior and exterior pockets for separating items like your keys, phone, and sunscreen from the rest of your belongings. Some extra large beach bags even come with insulated compartments to keep your drinks and snacks cool.
Style and Design
Large beach bags should not only be functional but also reflect your personal style. Beach bags come in a wide variety of designs and colors, so you're sure to find one that matches your taste. Whether you prefer a classic nautical look, tropical patterns, or something more contemporary, there's a beach bag style for you. Consider opting for a bag with a zippered closure or a drawstring to keep your items secure during transit.
Straps and Carrying Options
Consider how you want to carry your oversized beach bag. Most beach bags come with sturdy handles that you can comfortably carry over your shoulder or in your hand. Some even have adjustable and detachable straps for added convenience. Think about what carrying option suits you best, especially if you have a lot to carry or a long walk to the beach.
Water and Sand Resistance
A good beach bag should be resistant to water and sand to help protect your belongings. Look for bags with a waterproof or water-resistant lining to prevent any leaks from wet items. Additionally, choose a bag with a solid base or feet to keep it elevated from the sand, minimizing the risk of seeping sand into your bag.
The Bottom Line
With this ultimate guide, you're now equipped to make an informed decision and enjoy your beach days in style and comfort. So, go ahead and pick that XL beach bag that suits your needs, and get ready to make some unforgettable beach memories this summer.