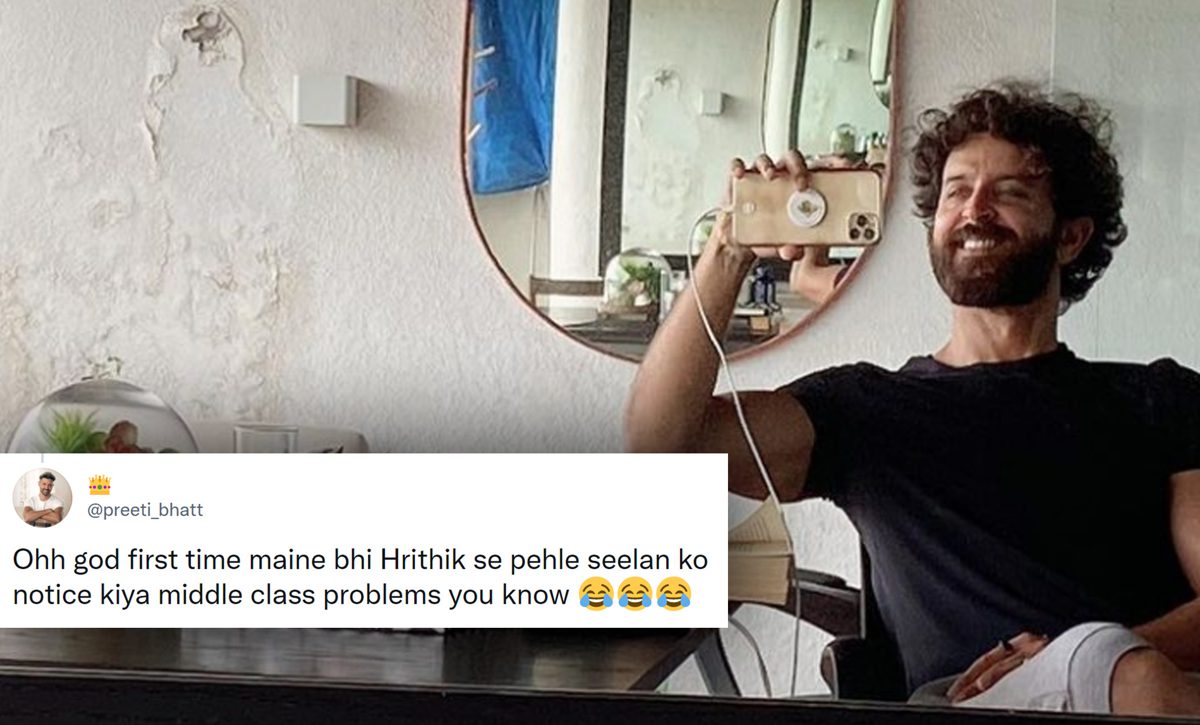 Post the phenomenal success of War and Super 30, Hrithik Roshan might have taken some time to announce his next project (Fighter), but the 47-year-old actor makes sure that he keeps his fans entertained by sharing a glimpse of his personal life on social media. And his latest post surely grabbed everyone's attention as netizens just couldn't stop themselves from commenting on the patch of damp wall in the superstar's latest mirror selfie.
SEE ALSO: Twitter Can't Stand Zomato's New Advert Featuring Hrithik Roshan; Here's Why
Taking to Twitter, Hrithik recently shared a click from his house after enjoying a 'breakfast date' with his mum, Pinkie Roshan. While the mother-son duo's adorable moment won many hearts, a section of fans on the internet couldn't ignore the damp wall in the background. Amused by the seepage in a celebrity's house, not only fans but even paint companies reacted to the post and within no time, the internet was flooded with a series of hilarious comments.
Even Hrithik could not escape the seepage issue in the Mumbai.
🤣🤣🤣

The entire Mumbai has this situation in common to cry and laugh about. https://t.co/4kZWubYmjP

— 𝓒𝓸𝓵𝓸𝓻_𝓦𝓲𝓩𝓪𝓻𝓭🌈 (@thunderrrstorm) September 15, 2021
Looks like your fans are very concerned about the background walls! If you ever need scientific waterproofing solutions, don't wait for 'Jadoo.' Call the experts! 😉 #BergerHomeshield #NoGyaanOnlyVigyaan

— Berger Paints (@BergerPaintsInd) September 15, 2021
Ohh god first time maine bhi Hrithik se pehle seelan ko notice kiya middle class problems you know 😂😂😂

— 👑 (@preeti_bhatt) September 15, 2021
Guys, making fun of someone's walls … pic.twitter.com/LZPolKQE4U

— Asian Paints (@asianpaints) September 15, 2021
So it is confirmed, there is no solution to wall dampness due to excessive moisture. I can die in peace now. https://t.co/9RHwZiAefG

— Pahadi Tribal (@Pahaditribal) September 15, 2021
Whoever you are in life, seepage is the greatest leveller. https://t.co/RCus0xDqI8

— अंशुल (@Ghair_Kanooni) September 15, 2021
Isi seehlan ki wajah se main ghr pe selfie nai leta 😢

— GentleMan (@__a_gentleman__) September 15, 2021
Known for his humble nature, Hrithik responded to a comment on the microblogging site saying, "Filhaal ghar bhi rent par hai. Apna ghar le raha hu bahut jald." Meanwhile, according to a Mumbai Mirror report, the Dhoom 2 actor has purchased two apartments, spreading over three floors, on Juhu-Versova Link Road costing around Rs 100 crore, last year.
Meanwhile, on the professional front, Hrithik is all set to team up with Deepika Padukone for the first time on the silver screen in Siddharth Anand's actioner Fighter. He is also working on the next instalment of his popular superhero franchise Krrish with his father Rakesh Roshan.
SEE ALSO: Siddharth Anand's 'Fighter' With Hrithik Roshan, Deepika Padukone To Be India's First Aerial Action Franchise
Cover Image: Twitter